November 04, 2009
RehabCare Group announces merger with Triumph HealthCare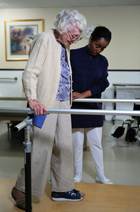 Nursing home company reaches $2.7 million settlement in therapy billing case
RehabCare Group, Inc., one of the largest national providers of physical rehabilitation services to long-term care facilities, on Tuesday announced plans to merge with hospital group Triumph HealthCare.
Based in Houston, TX, Triumph HealthCare has been a developer and operator of long-term acute care hospitals (LTACH) for the last decade. With 20 facilities in 13 states, Triumph's "merger" with RehabCare Group will create the nation's fourth-largest post-acute hospital operator and third-largest LTACH provider, according to a joint press release issued by the two companies. RehabCare Group currently operates in more than 1,250 hospitals and nursing homes in 41 states.
The deal is currently valued at $570 million, subject to adjustment, and is expected to close Dec. 1 of this year. The newly merged company will comprise 29 LTACHs and six inpatient rehabilitation facilities (IRFs) operating in 13 states, including two LTACHs that will be added in the first half of 2010.