December 06, 2016
Rehab a large showcase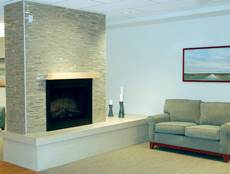 A therapy pool and "social zones" with multiple seating options are included in the expansive Waterford Place buildout. "Today's post-surgical rehab patient wants a lot more space and amenities," says
Sunset Retirement Communities and Services has long provided a plethora of eldercare and post-acute care services.
Until last year, the one missing piece was a dedicated rehabilitation center — a situation rectified with the construction of a new 42,450-square-foot facility.
Waterford Place in Jennison, MI, provides a dramatic upgrade to previous offerings.
The new rehab center, which opened in August 2015, is part of a $10.3 million, 61,000-square-foot renovation project that includes 39 private post-acute care rehab and skilled nursing beds, an aquatic therapy pool and spacious fitness area.
The community also features a café and bistro, bank, beauty salon, garden room, multipurpose room, storage facility and offices.
Progressive AE of Grand Rapids served as the architect of the project, which completes the nonprofit Christian organization's spectrum of services, including skilled nursing, assisted living, independent living, memory care, home healthcare and hospice on an extended campus.
CEO Steve Zuiderveen admits that the scope of the $18 million project — scheduled as Phase 2 of a four-phase renovation plan — expanded out of opportunity because Michigan is a certificate of need state. He figured since they needed the CON anyway, "it was now or never," he said.
"Once we got the CON, we did the design in earnest," he explained. "As a result, we have the kitchen capacity and space for at least 200 more residents."
The spaciousness of the rehab center extends to the private rooms and baths, which are equipped with Wi-Fi to handle rehab patients' personal devices. But even though the emphasis is on the "bigness," a lot of attention has been paid to the little things, too, Zuiderveen said.
"We looked at a lot of ways to make the environment more attractive, yet practical," he explained. "So we ended up putting in hideaway storage rooms for equipment so they don't clutter the corridors and placed the nursing stations where they are close to the residents without being obvious."
Mike Perry, principal architect of the project, said the design of the facility and materials used were a complement to the existing building, creating a campus that aligns "brand attitudes" with architecture.
"The interior needed to feel like home, supporting active lifestyles while providing on-site opportunities for multiple venues and experiences for both patrons and their families," he said.