November 05, 2016
Ready for the next century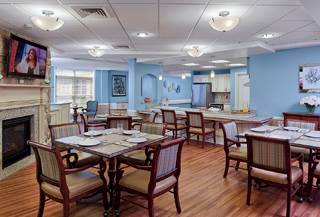 Each Artman household has its own dining room, fireplace and hearth area
Artman Lutheran Home in Ambler, PA, is wrapping up an extensive renovation project just in time to celebrate the organization's 100th anniversary in late November. Key to the project is making the word "home" live up to expectations from residents and their families.
The 15-stage renovation across several buildings on the expansive campus focused on converting an archaic institutional design into a contemporary household model that affords residents more comfort, tranquility and privacy.
"We transformed it from being chaotic and noisy to a relaxed, quiet environment," said Vernon Feather, senior vice president of SFCS, an architectural, engineering and interior design firm that specializes in senior living. "There are no more nursing stations, alarms or bells. It is completely different."
The $17 million project consisted of fashioning seven households from the existing infrastructure, including three households for skilled nursing and rehab, as well as four for personal care, including assisted living and memory support.
In the skilled care building, the renovation created two separate households for long-term care, with 20 residents in each. Each has its own kitchen and dining area, living room, patio and fireplace hearth. Resident rooms that were mostly communal are now mostly private.
Designers took the same approach for the personal care households, including setting up a dedicated memory care household.
"Our memory care residents used to be spread out across the facility," said David DeLuca, director of real estate for Liberty Lutheran. "Now they are together and they have their own amenities, so they don't feel like second-class citizens."
It took "a good year of master planning" to prepare for a renovation of this magnitude, DeLuca said. "The concept was to create household living while maintaining the same footprint."
While the privacy of individual rooms was paramount to the renovation, the common areas have been configured to encourage socialization, DeLuca said.
The innovations applied to the new facility were decorative as well as functional. To eliminate the institutional clutter of carts in the corridors, the new design employs storage cabinets that look like furniture. Designers improvised on decorative accessories, such as vases and heirloom bowls, removing the potential safety hazard by securing them with glue and fasteners.