December 01, 2012
Rally the troops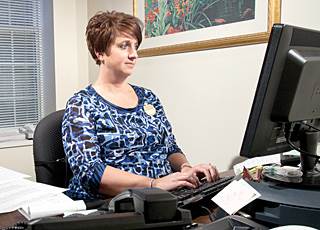 Rally the troops
As seniors housing operators aim to increase efficiencies, minimize process redundancies and improve resident care, many are adopting information technology in hopes of meeting these goals, and more.
For all its benefits, experts warn that even the most promising IT solutions will fall flat without staff buy-in and a community-wide commitment to using the solutions to their fullest. Unfortunately, it's a message some operators miss, and an oversight that could cost them dearly. Many just don't know how to accomplish what they need to.
"No doubt about it, without staff buy-in, [IT solutions] won't be very effective. The question, though, becomes how do we get the nurses and other stakeholders to understand, embrace and be motivated by the new technology?" says Ed Tromczynski, CEO, COMS Interactive.
Tromczynski and others have a good idea what it takes. They've seen firsthand what works to drive effective implementation of new IT among nursing staff.
"We've also seen what doesn't work so well," he adds. "Adopting some of these success strategies can make the difference between just buying IT solutions and implementing IT solutions that truly work for all stakeholders involved."
Empowering the cause
Even if clinicians were part of the IT selection process and seem to grasp the importance of the investment, operators can't assume that they'll all be off and running once implementation takes effect. As with any technology, user confidence will vary and enthusiasm will wane if employees aren't properly — and patiently — trained.
Before rolling any solution out to the end-user or even initiating staff training, however, it's wise that operators first pick a "technology owner" and "functional owner" for the IT solution, reasons Brian Graves, global practice leader, healthcare at Kronos.
"In the case of a solution designed to automate nursing processes, it's logical that a nursing representative be appointed as the functional owner," he says. This person will be responsible for pinpointing training and configuration needs on the solutions' functionality, and the processes pegged for automation. An IT representative should serve as the technical owner and will play a critical role in system selection and implementation processes, he notes.
At least one nursing home operator has seen firsthand the value of having nursing directors learning the technology right alongside their staff and engaging in training and support. "They must take the lead. They must have buy-in. And negative attitudes have no place," says Melanie Wilkins, owner and operator of Wilkins Nursing Center in Duncan, OK.
Recruiting the most computer-savvy, motivated employees to champion peer training and promote deeper, long-term staff engagement is equally vital, experts stress. Often, facilities will find an employee or two from each shift with solid computer skills and these should be the go-to people to steer implementation and motivate staff, according to Angel McGarrity-Davis, RNC, CDONA, CDP, NHA, a NADONA master certification trainer who serves as vice president of clinical services for AMD HealthCare Solutions Inc.
Typically, clinicians fall in one of three categories: those with solid technical skills; those with some technical skills; and those with little or no technical skills. The key, according to Tromczynski, is to start by training those in the first category to create an "elite team" to empower the other groups. This elite team, which may consist of 10 to 15 champions, undergoes targeted vendor-guided training before each goes on to mentor four or five other nurses in the facility. If questions or implementation issues arise, the champion will intervene to ensure that the process stays on track.
Staff development coordinators are another asset that can be effectively tapped by mid-level management to promote effective IT implementation, adds Brandi Smith, director of marketing communications for PointClickCare. These individuals and other designated team leaders can monitor utilization by working alongside system users, identifying training opportunities and providing direction on usage expectations.
"They may also establish a review process that rates staff on their performance and utilization of the system," she says.
She also advocates the use of a multidisciplinary steering committee that, aside from nursing, includes representation from billing and executive offices, and IT departments.
Physicians and clerical staff should be included, too, adds Sheila Cougras, RN, BSN, CWCN, director of education and implementation for Net Health Systems. And don't overlook the value of hiring a dedicated, in-house trainer who can focus entirely on the implementation process, advises Tina Beskie, VP of business development and marketing for Nurse Rosie Products.
"Having a trainer in the facility with hands-on instruction is worth its weight in gold. It's a line item that many long-term care facilities want to skip, but that may prove to be a pennywise, dollar-foolish decision," Beskie cautions.
Allocating ample time and money to IT training and implementation is critical, Wilkins agrees. One of the biggest mistakes operators make when implementing IT solutions is expecting overnight returns and not anticipating the time required to get staff up and running, she says.
"Operators don't [always] realize the financial commitment from labor costs and overtime that's needed during implementation," Wilkins notes.
Another common operator mistake is failing to fully tap the IT solution vendor as an implementation expert.
"Vendors have seen multiple implementations, teams and scenarios. Use their experience to avoid common pitfalls whenever possible," says Greg Goodale, marketing manager for HealthMEDX.
Tackle a timeline
Successful IT implementation also hinges on a well-planned adoption timeline. This gives staff a target that allows them to set goals and gauge their performance. At the same time, it gives operators and their IT solution champions a clearer picture of staff setbacks and implementation challenges that may signal a need for more targeted training.
The best timelines are those that are clearly defined, yet still flexible enough to allow for additional training and continued implementation growth. Building key factors into the plan and then holding the team accountable for a successful project plan is critical, according to Louis Lenzmeier, marketing director for MDI Achieve Inc.
"If you know there will be some pitfalls along the way, like surveyors coming into the building, or you're going through organization expansion, ensure that this is built into the project so you can still experience success," he says.
Project leaders also should assign a back-up and ensure that this person is well versed on all critical aspects of the implementation project. That way, if the project leader is unavailable, the project will stay on target.
Speed isn't necessarily the fastest route to success, either. While some IT vendors take a fast-track approach to training, experts caution that this shouldn't be confused with an all-or-nothing implementation strategy.
"A lot of trainers and software solutions providers are insistent on training staff to operate the entire cockpit, so to speak, and many try to do this before giving staff a chance to drive the solution and really test it out," explains Tromczynski. "We feel it's more important to quickly bring staff up to speed on the basics so they can then get out there and start using it and seeing its benefits firsthand."
Phase-in is particularly useful when adopting any kind of electronic health record platform, Smith adds.
No matter what, on "official" IT solution launch day, operators and their vendor partners should create an event-like atmosphere that ignites interest and encourages employees to take ownership of the implementation process, reasons Doc Devore, director of clinical informatics and industry relations at AOD Software.
"When launch day is treated as an event and the team is involved in educating the rest of the staff about the reason for the change and the outcomes that are expected, the implementation will usually be successful," he says. For example, AOD Software provides stickers and T-shirts to key members of the team.
COMS takes a similar branding approach. Facility champions receive pins and double-sided lanyards that promote the Elite Care Program and demonstrate to physicians, residents, family members, and other staff that care, quality and support are top priorities. Elite trainers who meet or exceed facility-determined implementation goals also may earn gift cards and other bonuses.
"The goal is to create a vacuum of Elites, where they are focused on empowering and training other groups within the building, and [incentivized to do so]," Tromczynski says.
Establishing a timely, ongoing communication plan to gauge stakeholders' success and challenges with the IT solution is also prudent. McGarrity-Davis recommends that for at least the first two to three months post-implementation, facilities add a specific item on their staff meeting agendas to assess staff progress on new IT.
Go with the flow
Staff proficiency isn't the only factor facilities should tie to IT implementation success, however. Getting the most out of their IT investment long-term also depends on staff's understanding of how the solution is benefitting resident care and outcomes within their own facility.
"Clinicians and staff work in the healthcare industry because they want to care for patients," says Cougras. "If there is a tool that supports this goal then clinicians are more likely to adopt and embrace it."
According to Robert Davis, CEO, Optimus EMR Inc., the sooner operators can demonstrate to staff the value of the workflow redesign, the sooner it will build credibility and confidence in the process. Equally important, he says, is ensuring policies and procedures are updated in writing to reflect workflow changes, and then communicating those policy updates to all team members. At the same time, facilities should make sure sustainable quality assurance processes are built into the workflow product.
"Without this, it is human nature to revert back to what is comfortable," Davis says.
That is not usually where higher goals reside.