October 12, 2015
Quadruple-power flu vaccines reduce hospitalizations: report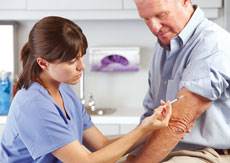 A high-dose flu shot is effective in many ways, study results show.
Flu vaccines with four times the strength of a regular flu shot may help decrease the rate of flu-related hospitalizations in nursing homes, according to a new study.
Researchers at University Hospitals Case Medical Center analyzed data from more than 50,000 seniors living in 832 nursing homes across the country for the study, which is the largest of its kind to date. Nursing homes participating in the study were randomly assigned which flu vaccine they would administer to residents — one group gave the standard dose vaccine, while the other gave the higher dose.
Results showed that the group that received the stronger vaccine had a 19.7% rate of hospital admission, compared to 20.9% in the standard group.
"If [the stronger vaccine is] given to all approximately 1.5 million nursing home residents, a one percent drop in hospitalizations would translate to thousands fewer being hospitalized," said lead researcher Stefan Gravenstein, M.D., MPH, Director of the Center for Geriatrics and Palliative Care at University Hospitals Case Medical Center. "In our study, for every 83 individuals receiving the high dose vaccine a person was prevented from being hospitalized during the influenza season."
The decision whether to make the four times stronger dose the norm in nursing homes will be determined by the Advisory Committee on Immunization Practices, which is part of the Centers for Disease Control and Prevention.