March 01, 2012
Providers give quick rebuke to White House budget plan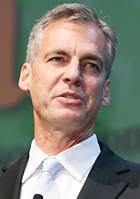 Mark Parkinson

President Obama's 2013 budget plan received a cool reception from the provider community. The collective criticism is that the $3.8 trillion blueprint lacks fairness and vision.

In an effort to cut $364 billion from healthcare spending in a decade, the plan trims about $268 billion from Medicare and another $52 billion from Medicaid.

Mark Parkinson, president and CEO of the American Health Care Association, said that providers already are dealing with payment reductions through regulatory and legislative changes. Under the budget proposal, they would have to deal with a slew of new reductions, including less favorable bad debt provisions.

"Cutting payments such as the White House's bad debt provision is tantamount to cutting Medicare benefits," Parkinson said. He added that Medicaid changes limiting provider assessments would make Medicaid payments more problematic.

"This sort of budgeting violates the basic contract between the government and beneficiaries — namely, that covered services will be paid," said Parkinson.

Business groups and many congressional Republicans also criticized the plan, which they said was a part of Obama's re-election strategy.