February 14, 2012
Providers face deadline for reporting overpayments; ICD-10 implementation deadline to be extended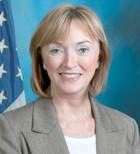 CMS Administrator and Secretary of the Medicare Trustees Marilyn Tavenner
Healthcare providers must report self-identified Medicare overpayments within 60 days of noticing the incorrect payment or face monetary penalties, according to a new regulation.
The 60-day deadline was instituted by the Affordable Care Act policies aimed at reducing Medicare fraud, according to the Centers for Medicare & Medicaid Services. Prior to the ACA, providers were not given a specific timeframe for returning overpayments to CMS. Examples of overpayments include: duplicate submission of the same service or claim; payment to the incorrect payee; payment for excluded, medically unnecessary and non-covered services. Click here for more information about CMS' fraud prevention programs. And click here to read the full proposed rule.
The news comes on the heels of a recent Recovery Audit Contractor report.
In other CMS news, Acting Administrator Marilyn Tavenner told reporters Tuesday that CMS is looking at extending the ICD-10 implementation timeline by way of a rulemaking process. ICD-10 is a revised coding structure system that helps providers more accurately code clinical conditions and care. Tavenner did not indicate when the rulemaking process would begin, according to reports.