November 13, 2017
Providers cautiously optimistic on new HHS head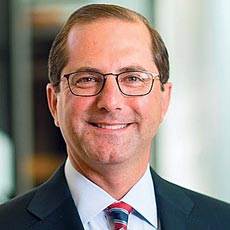 Former Eli Lilly executive Alex Azar was named HHS Secretary on Monday.
The nation's largest long-term care provider associations expressed optimism Monday about their future collaborations with President Donald Trump's pick to lead the Department of Health and Human Services.
Former Eli Lilly & Co. executive Alex Azar was confirmed to be Trump's pick Monday morning, when the president tweeted that he "will be a star for better healthcare and lower drug prices!" Azar has served as deputy secretary of HHS during President George W. Bush's administration.
HHS has been led by interim heads since Tom Price, M.D., resigned in September over criticism of his private jet use. Long-term care provider groups also had reacted warmly in January to the nomination of Price, a former orthopedic surgeon who they hoped would bring a provider's perspective to the role.
While Azar does not have a medical background, long-term care groups expressed optimism about their future under his leadership.
"LeadingAge looks forward to ongoing collaboration with the Department of Health and Human Services – including a new secretary – as we work, on behalf of our 6000+ members and partners, to ensure the overall health and wellbeing of older adults across the country," LeadingAge CEO Katie Smith Sloan said in a statement to McKnight's.
The "big-picture" issues the group intends on working with HHS on include improving long-term services and supports, reducing regulatory burden on providers and expanding affordable housing, Sloan said.
Mark Parkinson, president and CEO of the American Health Care Association/National Center for Assisted Living, praised Azar as a "respected and experienced leader" in the field. Azar is a former Eli Lilly executive.
"We look forward to working with him upon his confirmation to provide solutions to delivering quality care for the over one million seniors and individuals with disabilities we serve," Parkinson said.
Senate Health, Education, Labor and Pensions Committee Chairman Lamar Alexander (R-TN) said he plans to schedule a confirmation hearing for Azar "promptly."