October 04, 2016
Provider's $2 million settlement to fund state's SNF oversight overhaul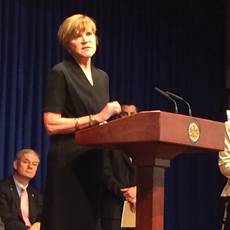 Department of Health Secretary Karen Murphy announced the plan at a press conference Tuesday
A portion of a Pennsylvania nursing home chain's $2 million settlement will be used in the state's new plan to overhaul nursing home oversight, health officials announced Tuesday.
The settlement of the previously unannounced lawsuit will resolve claims that Reliant Senior Care Holdings Inc. failed to properly staff its facilities with enough workers to provide basic care and services that residents were promised in marketing materials. Reliant operated 22 facilities across Pennsylvania, but has since sold the facilities to Priority Healthcare Group, according to local reports.
The Pennsylvania Department of Health will use $1.25 million of Reliant's settlement to fund its first major update in nursing home regulations and oversight since 1999, state officials said during a press conference Tuesday.
Two million dollars is "a very significant settlement," said Attorney General Bruce Beemer. "And that reflects real money we are going to be able to put to good use."
The plan lays out key goals for the department to tackle over the next year, such as improving collaboration between lawmakers, providers, workers and residents. The plan also has details on expanding facility inspections to focus on residents' quality of life, reviewing minimum staffing requirements, and updating the current survey process.
The changes were recommended by the state's Quality Improvement Task Force, a group established after a lawsuit alleging failure to provide basic services was filed against Golden Living last year, according to PennLive. The task force's plan follows a report released by state Auditor General Eugene DePasquale in July that slammed the state for failing to issue minimum staffing citations.
"I want to emphasize that today's announcement is in no way an indictment of the entire nursing home industry in Pennsylvania — we have many excellent facilities," said Department of Health Secretary Karen Murphy, Ph.D., RN. " But we will continue to make improvements to ensure that every Pennsylvanian living in a nursing home has access to high-quality care."