January 11, 2017
Provider to pay nearly $170,000 for falsifying, destroying records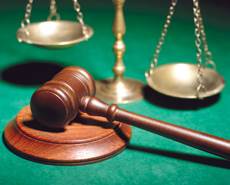 The penalties were announced Monday by Ohio Attorney General Mike DeWine
A former Ohio nursing home operator will pay nearly $170,000 to state and federal health agencies after its owner pleaded guilty to engaging in "corrupt activity," state Attorney General Mike DeWine's office announced on Monday.
Autumn Health Care of Zanesville, and its owner Steven Hitchens, pleaded guilty in October after an investigation revealed the facility had altered, forged, and in some cases destroyed records in order to maintain Medicare and Medicaid funding.
Hitchens attempted to withdraw his guilty plea in early December, but was unsuccessful, according to Columbus Business First. The charges originally filed against Hitchens and the company in 2014.
Among the crimes highlighted in DeWine's announcement were charges that Autumn provided unnecessary therapy to Medicaid residents, then billed Medicare to pay for the services. The provider also falsely reported unnecessary medical services to receive higher Medicaid reimbursement rates, falsified resident records to make it appear as though missed medical treatments were provided, and forged a nurse's signature on resident assessments sent to the Ohio Department of Health.
DeWine's investigation also discovered that Autumn destroyed a record that detailed an incident in which a resident was found in a snow bank after wandering outside the facility; the provider then forged a new document that "falsely described the incident" in order to dodge a citation from state surveyors, the attorney general said.
Autumn will be required to repay more than $52,000 to the Ohio Department of Medicaid, over $75,000 to the Centers for Medicare & Medicaid Services and an additional $40,000 in investigative costs to DeWine's office.
Hitchens, 61, was ordered to serve three years of community control along with 100 hours of community service for his charges, and is currently under a period of exclusion from federal healthcare programs. An attorney for Hitchens told the Columbus Dispatch that the former provider had experienced health issues over the last year, and concluded that "life's too short to sit in a courtroom."
"He'd like to get on with his life and enjoy retirement," the attorney said.
Seven Autumn employees from the former Zanesville facility were convicted in the case, along with three employees from other locations. All convicted employees were sentenced to community control and exclusion from federal health programs; the nurses convicted in the case also lost their nursing licenses.
Autumn Health Care was acquired by Greystone Healthcare Management in 2015.