September 17, 2010
Provider input sought for reform-driven quality strategy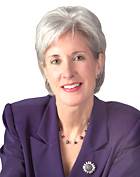 Department of Health and Human Services Secretary Kathleen Sebelius
The Department of Health and Human Services is seeking input from nursing homes, hospitals and other healthcare providers on a proposed National Health Care Quality Strategy and Plan.
HHS outlined the plan in a Sept. 9 press release. Under the plan, which is part of the healthcare reform law, Medicare reimbursements to nursing homes, hospitals and doctor groups would be linked to public reporting of certain aspects of quality. (The term value-based purchasing is often used to refer to the link between payment and quality.) Among the guiding principles of the plan are person-centeredness and family engagement, finding strategies and goals to address all ages and populations, and the elimination of disparities in care.
HHS has provided a pdf version of the plan, along with an online form for providing feedback on a number of different points on its website. Comments are due by Oct. 15.