July 04, 2016
Prolonging other lives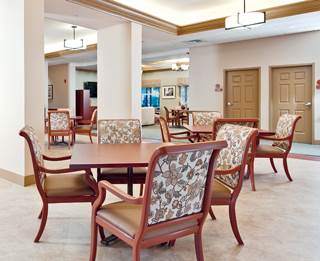 Furnishings in high-use areas should have proper coatings and materials to avoid a need for early replacement.
Furnishing a long-term care facility is no small task — but it's often done with a tight budget in mind. Taking steps to lengthen the life cycle of furniture can help funds go further and allow facilities to maintain an attractive look for residents and their families.
With the plethora of options available, however, it can be difficult to decide what material, fabric or treatment will work best while also keeping costs under control. Experts weigh in here on how administrators can get the most out of their facility's furnishings.
Warranties may be voided
Most important in lengthening the life of your furniture and furnishings is investing in the right things up front, says Jadi Endl, senior furnishings product consultant at Direct Supply.
"It's important to steer clear of residential furniture, especially in high-use locations such as common areas, lobbies and dining areas," she says. "Instead, select furniture with contract-grade construction, durable moisture-barrier fabrics and scratch-resistant finishes designed to last in a senior living environment."
Marv Smith, president of Optima Products Inc. and Comfort Chair Company, agrees, noting that furniture and mobility devices are subjected to rigorous wear in healthcare facilities, and contract-grade products are better designed to withstand the everyday demands. Endl also notes that contract-grade options offer more competitive warranties than their residential counterparts, which can have warranties voided when used in commercial spaces.
It's also essential to consider how and where furniture will be used before making major purchases, says David Sullivan, national sales manager at Flexsteel Healthcare.
"A product's longevity starts at the project planning phase," he says. "If you're anticipating the environment to be one of high use, consider removable seat decks, cleanouts and antimicrobial top coats."
Other experts remind administrators to double-check dimensions during the planning phase, to ensure proper fit and avoid unnecessary wear and tear.
"If a dining room chair arm is too high and doesn't fit under a table edge, this can cause damage to the top of the arm — and pinch the fingers of residents utilizing the seating," says Jane Rohde, principal and founder of JSR Associates Inc., a senior living and healthcare consulting firm. "Verifying appropriate dimensions based upon the care population allows the seating to be appropriately sized and contributes to the longevity of the products."
Materials built to last
While wood continues to remain the material of choice for furniture due to its natural beauty and more residential feel, the fact is that it's prone to nicks and dings, says Chris Silguero, director of sales at Hekman Contract.
"There are, however, several things that can be done to protect the wood," he says. Instead of having a wood or veneer tabletop, you can replace it with a matching high-pressure laminate, which is more resilient. Another popular option, chosen for its durability, is 3-D thermoform, a thermoplastic film overlay that can be applied to furniture, says Joel Herrmann, vice president and general manager of H Contract Furniture.
"This 3-D thermoform is more than three times thicker than regular thermoform and can take tremendous abuse without really showing it," Herrmann says. Using dining tables with a thermoform top also allows facilities to have a crisp, clean look without having to use a tablecloth to cover up beat-up corners.
Rohde agrees, noting that 3-D laminates can help protect a tabletop because the material is fused and wrapped around an edge, making it seamless.
Protecting the wood with several layers of nitrocellulose lacquer or catalyzed varnish adds hardness to the finish and also increases the piece's longevity and antimicrobial qualities, Herrmann says. He's also found purchasing pieces with more rounded edges — compared to hard edges — can also help protect them when walkers and wheelchairs inevitably crash into them.
"Hard edges tend to wear faster just from simple use," he says. "Walkers and wheelchairs can pretty much scoot right by when your furniture has more rounded edges on it."
Another option is non-wood furniture, which is easily maintainable, decreases the need for replacement and provides products that can be aesthetically pleasing.
"Furniture must be able to take a beating but not look like it," says Michael Zusman, CEO of Kwalu Furniture. "Wood furniture does not age well. It shows every bump and bruise."
For dining room and pull-up activity chairs in particular, Rohde recommends chairs with metal frames and a wood texture.
One option that allows facilities to get the look of wood, but with improved durability, is the use of wooden arm caps, which are removable, repairable and replaceable, Herrmann says.
Most importantly, however, administrators shouldn't lose sight of the comfort and safety of residents and their families, Sullivan says.
"Furniture should not only be held up to top high usage standards, but also be comfortable, safe and easy to use," he says.
Rohde recommends using vinyl for seating in high-use areas where food, beverages and incontinence are of concern. A high level of incontinence among a facility's patient population may indicate a need for using vinyl for lounge seating as well, she adds.
Crypton, an engineered textile with stain and microbial protection built in, is the most popular choice for chair backs and lounge seating, and is now available in more colors and patterns than ever before, says Herrmann. The material helps wick away moisture and is breathable — not to mention resilient. Rohde, however, warns administrators against solid, suede-type Crypton textures, as she's found that these will ghost anything spilled on them.
Extending good looks
Administrators interested in getting into more decorative fabrics such as polyester and nylon might want to consider topical treatments such as Teflon and/or an antimicrobial coating, Herrmann says.
"This gives you longevity and cleanability, and there's so many great choices out there today."
In addition to ensuring durable furniture purchases upfront, you also can extend a product's life with proper cleaning, Endl says.
"A mild disinfectant soap with warm water is the best option for cleaning real wood," she says, adding that Crypton fabrics require the use of Crypton cleaner or a powdered enzyme detergent. It's also crucial that staff wipe dry all surfaces after washing them, Silguero says.
"Sometimes with these wood products, liquid will puddle in a contour of the furniture, and the cleaning agent will begin to eat away at the finish," he says. "Diluting cleaners and wiping furniture off completely after cleaning is an important thing to do."
Preventive maintenance will also help facilities avoid premature or unexpected furniture replacement. That means regularly inspecting chairs, sofas, case goods and other furniture as part of a monthly maintenance routine to help plan for upcoming repairs or replacements, Endl says. If space allows, she also recommends storing extra dining or resident room chairs on site for seamless replacements.
Herrmann also advises administrators to find a refinisher to do touch-ups several times a year.
"Getting a refinisher once a quarter to touch things up is what the quality hotels do to keep things looking good. They get another two to three years out of their products just by doing that." n