September 04, 2015
Profile: Tom Coble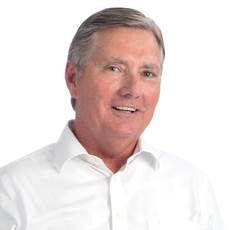 Tom Coble
At the end of February 1993, Tom Coble was working on offshore natural gas delivery in the Gulf of Mexico. By March 1, he was sitting behind a desk at a nursing home.
"I had never worked in healthcare a day in my life," he remembers. But Coble, who had acquired the Elmbrook Home with a friend from the friend's father, proved to be a quick study, making the facility Medicare-certified so it could accept skilled nursing residents. In 1995, they built an assisted living facility next door.
Part of Coble's passion for long-term care reflects the American Health Care Association's vice chairman's knowledge that it creates "the most gut-wrenching decision a family can make." Family and community reflect the cornerstones of the Elmbrook Management Company CEO's life: He's been married for 39 years to wife Kim. Daughter Meghann, who is studying to be a nurse practitioner, and son Brett, who oversees Elmbrook's operations, live nearby. Coble and his wife spend their spare time with their four grandchildren, who range in age from 4 to 11 years old.
"I've had as many as six family members here," he says. Most days, he eats lunch with his mother, who lives in Elmbrook's assisted living facility.
The oldest of four, Coble, 61, followed his father into the oil fields. But once he entered long-term care, he had found his calling. Accomplishments include adding four facilities and developing Summit Rehab.
"The reason I was interested in acquiring is that this frustration started me on a journey to reinvent the Medicare system that would allow us to take care of our residents. There were kind of two different reasons for the expansion. One was for efficiency and economy of scale, and two was trying to get a big enough footprint."
Coble, who is expected to become AHCA board chairman in October, provides expertise for rural providers, says AHCA President and CEO Mark Parkinson.
"Tom has figured out a way to succeed in a rural area. He's a very thoughtful and superb listener," Parkinson says. "He's really the perfect person to be in leadership right now."
Coble, who has spent his life in Ardmore, OK, says growing up in a rural area taught him "the value of relationships."
"The people we are taking care of, I know most of them. We didn't have an interstate highway until I graduated from high school in '72," he says. "It kind of helps you to understand how families help each other and how they relate and those different things." He was able to push Elmbrook with a "small-market" approach to success, including creating specific Medical Advantage insurance plans for long-term care residents.
Coble is "way out of ahead of everybody," but people don't always know it, says Dion Sena, past president of Florida Health Care Association.
"His humbleness … they don't realize how intelligent and knowledgeable he is," Sena says. "He has his own Medicare Advantage plans, and for a nursing home owner to have started that, it tells you something. With Tom's strengths in managed care, the timing could not be better."
Coble demurs on the praise, but says he's looking forward to being chairman. Nursing homes have been overlooked as the "high quality, low-cost providers of care in this country," he says.
"Now, as we are in this period of pressure on payments and all these things," he says, "I think it's our time to shine."
Resume
1980
Starts at Samedan Oil Corporation in Ardmore, OK
1984
Earns bachelor's degree from Southeastern Oklahoma State University
1988
Completes MBA at Oklahoma City University
1993
Becomes president and CEO of Elmbrook Management Company
1999
Joins Oklahoma Continuum of Care Legislative Task Force
2003
Serves as president for the Oklahoma Association of Health Care
Providers
2005
Joins Medicaid Reform Task Force as advisory member
2011
Elected to AHCA Board of Governors