September 01, 2013
Profile: The grateful gatekeeper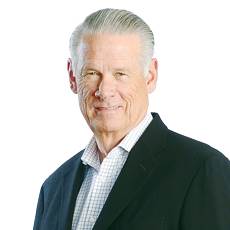 John F. Taylor, CEO, StoneGate Senior Living
Close to 50 years ago, John F. Taylor made two important decisions.
First, he married his wife, Paula. Then, he left college roughly 10 credit hours shy of graduating.
"Most guys at that age are kind of dumb, but the smartest thing I did was choose the lady I married," the CEO of StoneGate Senior Living says. In terms of not finishing college, he says it's a mild regret, but "hasn't had a negative impact on my ability to achieve what I wanted to achieve."
The Taylor success story began in Lawton, OK. He was the son of a retired Army master sergeant and homemaker mother. He also has a younger sister, Sharon.
"While I was still at home, I did a lot of stuff on the [Fort Sill] military base," Taylor remembers. "The military was a big influence on my life in a positive way."
Taylor met his wife in elementary school, and they married after their freshman year in college. They have a son, John Paul, and daughter, Sydney.
While raising a family, Taylor found success in real estate and became a licensed nursing home administrator in Oklahoma. He became a co-founder of TORCH Health Care Inc., where he served as the chairman, president and CEO from 1992 to 1999. After selling TORCH in 1999, Taylor spent two years putting together what would become StoneGate.
"I never really found the right thing until we decided to focus efforts on skilled nursing. I went back to where my roots were," he says. "While there were a lot of senior housing products, no one had developed new skilled nursing facilities and there was a dire need of new assets."
Now, his son is StoneGate's executive vice president and chief operations officer, and his son-in-law is a vice president of facilities.
"It just works with us," the elder Taylor says. "While there is family in the business, it isn't a family business. We don't run it like a family business."
He says that StoneGate's success comes from hiring talented people and focusing on quality.
"I like the warm and fuzzy part of what we do in providing a quality service to a certain demographic and population segment," he says.
Taylor, 66, has been a pioneer in developing nursing homes that focus on rehab, says Steven Vick, CEO of Signature Senior Living, a Texas-based assisted living provider. He and Taylor met around 1995, and they try to have monthly breakfast meetings.
"He works closely with hospitals and understands the importance of giving people back their independence," Vick says.
Taylor exemplifies ethical leadership, says Paula Pierce, RN, executive vice president and chief clinical officer at StoneGate. She served as director of clinical services at TORCH and has known Taylor for more than 20 years.
She says she knew right away Taylor was an honest person.
"That's hard to find a lot of the time," she says. "I knew I'd never be asked to do anything unethical. He played by the rules."
As a mentor to Pierce, "he's shown me the importance of relationships," she says.
Now a proud grandfather who likes to travel, Taylor shies away from terms like "self-made man."
"I'm strong-willed, and kind of always knew where I wanted to go," he says, "but you only accomplish that with the help of a lot of people."
Resume
1966
Starts college at Cameron University in Lawton, OK
1992
Launches TORCH Health Care Inc.
1999
Sells TORCH Health Care Inc.; leaves board of Oklahoma Assisted Living Association, which he co-founded.
2001
Launches StoneGate Senior Living
2010
Appointed to the board of Heritage Christian University
2013
Begins serving on the board of Heart to Heart Hospice in Dallas