January 01, 2015
Profile: Offering a voice of reason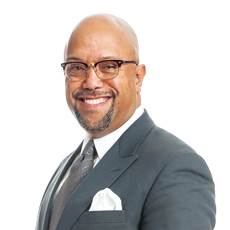 Clifton J. Porter II, SVP Government Relations, American Health Care Association
While he was growing up in Washington, D.C., there was a running joke in Clifton Porter's family. His mother would go on a "work trip," and his family would say that "six months later there would be news" from the region where she went.
That's because his mother was a career analyst at the National Security Agency, otherwise known as a spy. During those trips, Porter and his brother and sister would be taken care of by their father.
"I had the best childhood a kid could have," he says. "Even though my mom and dad were divorced, my dad said, 'Your mom and I don't agree about much, but one thing we agree on is how to deal with you.'"
When Porter attended Virginia Commonwealth University, he volunteered at a hospital, but it wasn't the right fit. He talked to his advisor, Anthony DeLillis, Ed.D., who recommended nursing home administration. "I volunteered at a nursing home and fell in love," Porter says.
He completed his license, got good grades and was in a program where almost all of the students had jobs upon graduation. But he had no luck. Porter remembers DeLillis saying, "There are just not that many African-Americans in this field. You're Jackie Robinson."
DeLillis recalls Porter as saying something along the lines of, "If you can help me get any job in any nursing home, including sweeping floors, I'll show them what I can do."
"He wanted to make a contribution in the world," says DeLillis, now a VCU nursing school emeritus professor, who describes Porter as a pioneer.
Porter married his college sweetheart Debbie and started at a 34-bed nursing home in Virginia. His career took off from there. He was working for HCR when it bought ManorCare, and was promoted to regional vice president. By running the D.C. market, he entered the political sphere.
Porter not only has excellent people skills, but also is "exceptionally well-read" and has a skill in lobbying, says Keith Weikel, Ph.D., a former senior HCRManorCare executive.
"Everybody in the field accepted Clif," Weikel remembers. "He's self-motivated. He's done a magnificent job as a father."
The Porter children are daughter Chanel, who works for PriceWaterhouseCooper in Chicago; son Christian, a third-year student at the University of Virginia; and younger son Clifton, called JoJo, a senior in high school. After 16 years at HCRManorCare, Porter accepted the chief lobbying position at the American Health Care Association in 2013. He lives in D.C. during the week and in Ohio on weekends.
At AHCA, "I'm being stretched and I'm learning," he says. "I'm with incredibly smart people. It's like getting your Ph.D."
Once they are empty nested, Porter and his wife plan to settle in D.C. Porter, who turns 48 this month, also plans to continue volunteering, which he has done with his church and with underprivileged children. He muses over an education career after retiring from government work.
Porter is optimistic about increasing diversity at regional, division and top executive levels in long-term care, noting a small but noticeable increase of African-Americans at conventions.
"We're making a tremendous amount of progress and when I look across the room, it is not so lonely," he says.
Porter still has a picture of Jackie Robinson in his office, to help him recall what DeLillis said.
"It's my reminder. He said, 'You go out there and play.'"
Resume
1989
Earns bachelor's degree from Virginia Commonwealth University
1991
Becomes administrator for Medical Facilities of America
1998
Goes to work for HCR ManorCare as regional director of operations
2004
Named vice president, government relations, at HCRManorCare and starts as chairman of Health Facilities Association of Maryland Legislative Steering
Committee
2005
Starts volunteering as a tutor at Kidz Unlimited in Toledo
2007
Serves on the board of advisors, health administration program at University of Wisconsin-Eau Claire
2013
Named senior vice president, government affairs, at the American Health Care Association