October 10, 2017
Profile: Michael Wylie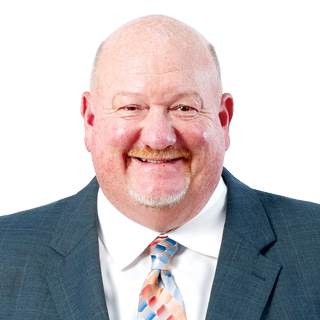 Michael Wylie
While Michael Wylie has spent three decades working at Genesis Healthcare, it was an experience as a son that showed him how much his colleagues care.
Six years ago, it was time for his family to move his father into Oceanside Skilled Nursing and Rehabilitation in Hampton, NH, due to worsening dementia symptoms.
"I thought that because of my years of experience I was going to be able to handle it well," Wylie remembers.
The pair stopped at his father's favorite place for lunch, where he could order a roast beef sandwich and onion rings. His father said, "I'm not going home today am I?" But he told Wylie, "My son, I trust you implicitly and whatever you think is best is fine."
Wylie admitted his dad, an Army veteran who worked 45 years as a grocery store manager, at the Genesis-operated facility and then excused himself to an office. He began to cry, only later noticing an intern sitting in the corner. She walked over and said, "Mr. Wylie, we're going to take real good care of your father."
"And they did a phenomenal job," Wylie remembers. "It impacted me substantially and it gave me a better understanding of what families go through. The biggest thing from all the years at Genesis is you can never thank the people who provide the day-to-day care often enough."
Those relationships are reflected in how "Mike is universally well regarded in the industry, not only for relationships inside Genesis and the long-term care industry but because his work in the area of advocacy has been very, very important," says Genesis CEO George V. Hager. "He's a guy that people like to be around."
That reputation is expected to be helpful if, as anticipated, Wylie, 58, becomes the next American Health Care Association chairman this fall. It's a role he's excited to take on, even with the challenges the industry faces.
"One of the goals is to impact Medicaid in a positive way so that we get reimbursed somewhere closer to what it cost us," he says. "We're already a great value add, and I want to know what can we do to help provide care and do it easier and/or better."
A New Hampshire native who started his career as an activities director, Wylie worked his way up to senior management despite being a few credits short of a college degree.
"It's an inspiring story for people in buildings," says Mark Parkinson, AHCA's president and CEO. He shared how at a recent board meeting participants discussed the financial impact of civil monetary penalties, and Wylie spoke movingly about the additional impact on morale.
"Michael was able to articulate the terrible psychological and mental drain for folks," Parkinson says.
Wylie is a "blue collar guy," adds current AHCA chairman Tom Coble.
"He's just as comfortable in a facilities' room as he is in a board room," Coble says. "He understands the business from the floor to the ceiling. He sees it as his calling and his inspiration comes from that."
Through his career, Wylie says he adopted a jack-of-all-trades mentality. At Genesis, traditionally "when they have a job and they don't know who to assign they give it to me," he laughs.
That has occasionally meant having to close facilities due to physical plant problems, but one -- Lacey Center in New Jersey – had a silver lining. When the center closed, its resident therapy dog, a Shih Tzu named Lacey, needed a new place to put her paws, and went home with Wylie.
That good heart also was evident even when Wylie started his long-term care career. When he was hired as an assistant activities director at a Norristown, PA, nursing home in 1981, and then promoted, he took residents to a Phillies game, to Atlantic City to gamble, and he started a baking class.
A self-described foodie, Wylie still enjoys cooking and trying new places with his wife, Denise, whom he approached at a restaurant bar 36 years ago. The couple, who have a daughter, Sara, 27, also enjoy musicals and plays. Wylie – who played Doc Gibson in his high school production of "Our Town" – has seen "Mamma Mia" four times, and also loves Jersey Boys and other Broadway and off-Broadway shows.
His joie de vivre is evident in his interaction with association members, Parkinson explains.
"He's a lot of fun, he's upbeat," Parkinson says, which is important in an era where the sector and operators are struggling. "When you're around him, it's clear he used to be an activities director."
— Elizabeth Newman