May 08, 2015
Profile: Kari Olson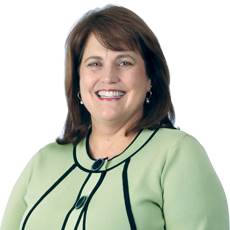 Kari Olson
The mother of 5-year-old twins and president of the Front Porch Center for Innovation and Wellbeing in California, Kari Olson epitomizes work-life balance.
"My pure joy is watching my kids grow up. Any spare moment, I spend with my kids and family," she says. At the same time, the next year at Front Porch will be about "what we can do more of and better. I get to sit down with all different parts of the organization and see what the most pressing need is."
Olson and her three siblings grew up in San Diego and Los Angeles in a "progressive, service-minded family," which included a father who was a Lutheran pastor. Although both of her parents are deceased, she remains close with her stepmother.
"My mom was first a high school English teacher who went back to get her law degree and became a public defender, and then an attorney to the court of appeals," she says. "My stepmom is so amazing, she was working with the developmentally disabled and went back to school to get her Ph.D. My mom, dad and stepmom were all inspiring to me."
Olson's expertise arrived after starting her career as an economist. Working on databases, she became fascinated by computers. She eventually had an epiphany while working as a technology manager at a law firm.
"I was sitting on the thirty-third floor, looking at the skyscrapers and thought, 'My heart is somewhere else.' I had a sense from my upbringing that the not-for-profit world was for me," she says.
She went to work for what was then California Lutheran Homes in 1995, which grew into Front Porch.
"There were a whole lot of typewriters," she remembers. "The best part has been the beautiful way this organization grows and changes, driven entirely by the way we meet the people we serve."
Front Porch former CEO Mort Swales notes Olson "has a tremendous future in front of her."
"She does not view having technology for technology's sake," he says. "She views her role as a partner in business roles and objectives, and she does that very successfully."
Olson says part of Front Porch's success reflects on how retiring CEO Gary Wheeler believed technology would be a "strategic advantage." Front Porch has earned numerous honors, including a 2013 Gold McKnight's Excellence in Technology award.
"We've dug deep and moved in new directions," she says.
Olson, 50, has been a mentor and is "one of the people who carries the torch forward," says Sheri Peifer, Senior VP and Chief Strategy Officer at Eskaton. The two also bonded as mothers of twins who are the same age.
"Kari, for as long as I've known her, plans forward for those special times with her family," Peifer says, noting she wonders how much Olson sleeps.
Olson says her "amazing, supportive" husband, John, whom she met at a Thanksgiving 10 years ago, is her best friend.
"It was the one and only time in my life I didn't go home for Thanksgiving," she says. "I beat him at chess and I won his heart."
The family, which includes two Maltipoos, enjoys watching movies and listening to music. At work, Kari and the Front Porch team recently watched the documentary "Alive Inside," which chronicles the Music & Memory project.
"If you want people to better understand the leader that Front Porch is known to be, the secret sauce is our people. ... There's something so special about the hearts of front-line caregivers."
Resume
1984
Earns B.A. in Economics from UCLA
1987
Leaves position as economist/systems analyst to accept product manager position at Applied Management Systems
1992
Starts as technology manager at law firm in Century City, CA
1995
Joins California Lutheran Homes & Community Services as director of information systems and services
1999
Moves into role as chief technology officer at Front Porch Enterprises
2009
Named president of Front Porch Center for Innovation and Wellbeing
2013
Adds title of chief innovation officer at Front Porch