August 05, 2016
Profile: Israel Ray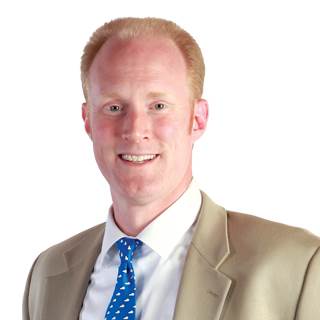 Israel Ray, Administrator, Radcliff Veterans Center
During college, when Israel Ray ran track and field and specialized in the 110-meter hurdles, his coach noticed he would do whatever it took to win during a practice.
The coach said he was going to start working individually with Ray and use a critiquing technique via camera.
"He said, 'I'm going to have you start competing against yourself. No one else is going to push you but you,'" Ray says. That's a philosophy, he says, he has carried with him through his long-term care career.
Described as a "rising star" by American College of Health Care Administrators immediate past chairman Michael Hotz, Ray is tasked with overseeing a new Kentucky Veterans center. The building, Radcliff Veterans Center, allowed him and his family to return to his hometown in 2015.
The oldest of five, Ray was named for the Biblical story in which Jacob (Israel) wrestles with an angel. He calls his upbringing in a blue collar Baptist family a time when children learned to "appreciate the value of a dollar."
"We did a lot with a little," he said.
When Ray's younger brother Jesse, the executive director at Green Valley Care in Indiana, went into long-term care, he suggested his brother consider it as well. At the time, the elder Ray was considering becoming a physician.
"I thought, 'I'm good at this, but my brother would be amazing," Jesse Ray says. "He had this charisma. I was proud to plant the seed."
Jesse Ray says the brothers were extremely competitive as children, but that he has always admired Israel's work ethic, especially during a childhood when they knew higher education or luxuries would have to be earned.
"We didn't have a lot of money. He was constantly working," Jesse Ray says.
"He's kept those values that Mom and Dad instilled in us. He's a man of faith."
Ray was recently named ACHCA's Member of the Year. Hotz says Ray has a notable dedication to his residents.
"That's where his priorities are," Hotz says. "He represents honesty, integrity and a warmth of care, not just for his residents but for everyone who has crossed his path."
That warmth is reflected in how Ray describes the community at Christian Care Retirement Communities in Hopkinsville, KY, as "becoming his family."
While that job took Ray away from home in 2008, the position allowed him to focus on strategy and gave him more time with his wife, Elizabeth, and his children, ages 7 and 9.
Before that, "when I was traveling 30 weekends of the year and my daughter was born, I'd pay for her and my wife to come with me so I wasn't away from them as much," he recalls. "I learned it doesn't matter how much money or wealth you amass if you are away from your family. If you leave at 6 in the morning and don't get back until 7, and your daughter is in bed, what does it matter?"
Between overseeing the construction of the veterans home and his own dream house in Elizabethtown, Ray's time for hobbies, such as hiking and cycling, is limited. But he said it's been a blessing to be back near his extended family and friends, as well as prepare for the opening of Radcliff in the fall.
"My wife told me, 'Israel, what you do, you're in the construction business. You either build people up or break them down,'" he says. "That's what we can do — build people up — as we coach and mentor."