May 08, 2018
Profile: Dan Ciolek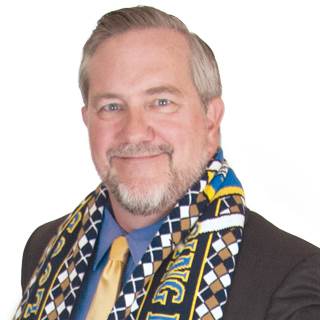 Dan Ciolek, Associate VP, Therapy Advocacy AHCA
Sports have played a key role throughout the formative years of Dan Ciolek's life.
It was a series of injuries, sustained while wrestling and playing other sports, that helped propel him toward a career in physical therapy some 30 years ago. Fast forward to today and one of his greatest passions is following the Philadelphia Union Major League Soccer team, for which he's been a season ticket holder for the past several years.
Ciolek — who is the associate VP of therapy advocacy at the American Health Care Association — is also a huge Barcelona soccer fan and dreams of seeing the team in person. They actually were playing in D.C. more recently, "but I wasn't going to pay $350 a ticket. There's some sense of rationality there that I just can't justify that much."
That sense of frugality dates back to his childhood days, growing up in Salamanca, NY, then a blue-collar railroad and industrial city, which he describes as "Small Town, USA." The youngest of five children, his parents were both laborers, with mom working in a print shop for Cattaraugus County and dad in a furniture factory. Their backyard had a huge hill to climb and keep the kids entertained, sowing seeds for his adult love of the outdoors.
"It was a simple life," Ciolek says. "We didn't get McDonald's until I was a senior in high school."
His was a competitive family, and following in his older siblings' footsteps, Ciolek tried his hand at everything from football to soccer, wrestling, track and tennis. After shipping off to college in Ithaca, NY, he briefly kept up with the sport at which he excelled the most, wrestling, before an accumulation of injuries forced him to hang up the singlet.
Ciolek, now 55, then turned his eye toward physical therapy and his desire to stay close to sports.
"I knew by the time that I was in high school that I wanted to be in PT, but didn't get around to it until I got my master's degree," he says. "I wanted to understand my body a little bit better and why I was getting hurt, and what I could do to prevent it or recover better."
From there, his career has been a winding road. He spent a spell as physical therapist at a New York City hospital, where he met his wife of 28 years, Cathy Haines Ciolek, a physical therapist who, at the time, was studying at Ithaca. After a quick courtship, they ended up back in her native Delaware, where he started his own PT practice, eventually serving in various leadership positions at a Delaware skilled-nursing facility.
They now live in unincorporated Wilmington, DE, about five minutes from where Cathy grew up. They have three adult kids — boy-girl twins Alex and Danielle, 24; and Hannah, 21 — all of whom attended the same high school as their mom. With the children having flown the coop, the Cioleks have found a passion in visiting wineries in their spare time, Cathy preferring whites, Dan favoring reds, particularly Merlots and Malbecs.
It was around 2000 that Ciolek took a risk after receiving a call from a friend. He transitioned his career to the policy side of the equation, working on Medicare therapy and provider education projects. He spent 13 years with Centers for Medicare & Medicaid Services contractors, consulting on various Medicare-related projects.
Judith Olshin — who made that fateful phone call, and was his colleague for several of those years — describes Ciolek as a hard worker who can intrinsically see the details in the data, and how things fit together. It wouldn't be out of the ordinary for him to answer a project-related email at 2 a.m. or 3 a.m. Yet, he'd always maintain his sense of humor. Often, they'd laugh over the day's Dilbert comic strip, and one year, he bought Olshin a coffee mug that said, "If you had my job, you'd drink, too," which "was very appropriate at the time," she said with a chuckle.
"I have the highest regard for him. When we worked together, we were on some pretty intense projects, and everything was always on a deadline and very high-stress, and I have to say I think we had fun, despite all of those challenges," she said.
Despite his hardworking nature, Ciolek still values striking a balance between family and business. He telecommutes to his AHCA job part of the time, giving more minutes to spend with family, reading thrillers and history books, and running with his 13-year-old Labrador retriever, Bingo.
Dale Avers, a longtime friend who worked with Ciolek in his 1990s advocacy days, said he works hard, but knows how to integrate those duties into his everyday life. Avers recalls one incident, when the twins were 2 years old, and a bottle of baby powder exploded in Ciolek's closet, covering every stitch of clothing. Then a young, plucky PT, Ciolek still showed up to the important meeting on time, though wearing much more casual clothing than the occasion required.
"I think it shows his humility, as well as how much he cares about doing a great job and living up to the faith that people put in him," Avers says.
Resume
1984 Earns bachelor's degree from Ithaca College
1987 Completes master's degree at Columbia University, College of Physicians and Surgeons
1987 Begins physical therapy practice in hospital, inpatient rehab, home health and outpatient settings
1994 Begins SNF management career, ending as Delaware-area rehab director
1996 Earns board certification as geriatric PT specialist
1999 Earns national PT Advocacy for Older Adults award
2000 Starts 13-year stint as CMS contractor
2003 Earns Excellence in Career Achievement award from AdvanceMed
2011 Earns International Project Management Professional certification
2013 Earns national PT Policy Maker award
2013 Joins AHCA staff as senior director of therapy advocacy