March 04, 2016
Profile: Alice Bonner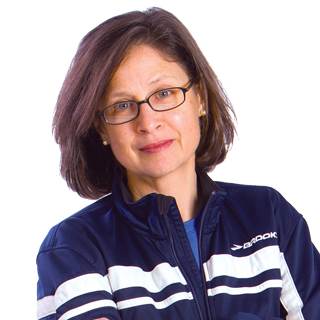 Alice Bonner, Ph.D., RN, Secretary of Elder Affairs for Massachusetts
Even if long-term care providers don't know much about the personal life of Alice Bonner, Ph.D., RN, they have likely seen her in running shoes.
It's not an accident: The former Centers for Medicare & Medicaid Services official and current Secretary of Elder Affairs for Massachusetts is a ferocious runner, so avid that she volunteers with Back on My Feet in Boston. The organization helps homeless men and women rebuild their lives through running.
"It helps them do the discipline of running three times a week at 5:30 in the morning," Bonner explains. "The goal is to build self-confidence and provide team spirit and camaraderie. I get tremendous satisfaction out of running with the guys I run with on my team. It's inspiring to watch them over time."
Retired Commonwealth Fund official Mary Jane Koren, M.D., M.P.H., said her friend is never without her sneakers when Bonner visits her in New York.
"Occasionally she's stayed overnight and no matter how busy she is or how late she's stay up, she'll go out and run the next morning," Koren says.
"She'll talk to you while she's running," notes American Health Care Association senior vice president David Gifford, M.D.
In her early years, Bonner, 58, wasn't interested in healthcare. She grew up as the daughter of a reference librarian and dancer mother. Her mother, who still will put on her tap shoes at age 86, lives near the Bonner home in Westborough, and is one of the reasons Bonner left federal work.
"I came back to Massachusetts because my mother has Alzheimer's. She wants to live on her own and be independent, and I feel very committed to supporting her in that. She needs to be checked on and I felt I was too far away."
Bonner's interest in long-term care was first stoked by a summer job as a nursing assistant in 1978.
"I loved that job in the nursing home," she says. "I thought what the nurses did was really cool, and they ran the show."
She completed her bachelor's degree at Cornell and went straight to a two-year program at Columbia to earn her nursing degree. As she started her career as a staff nurse, "I discovered nurse practitioners could do everything I wanted to do, which was stay close to the patients, manage their care and really provide primary care."
In 1990, she arrived at Fallon Clinic in Worchester as a nurse practitioner. While she juggled work and school, she says she was lucky to have the support of her husband, Matthew, whom she met in junior high school and married in 1979.
Their younger son, Ryan, is now in medical school in Chicago. Older son Daniel, a biomedical engineer, and his wife, Joanna, live nearby with son Calvin.
While she enjoys visiting Martha's Vineyard, the self-described workaholic acknowledges that her days are largely spent passionately overseeing Massachusetts' elder affairs. Most of the job "is not about the medical or clinical, but about healthy aging."
"We have to see older adults and people with disabilities as whole people," she says.
Bonner, who says much of her success relates to teamwork, has the ability to "get people energized to work as a group," Gifford says.
"You don't feel like she's a bureaucrat," he says. "She's tough, but she also recognizes there are limitations to what can happen in healthcare delivery. It gives her a lot of credibility.