May 01, 2014
Profile: A rare bird in Congress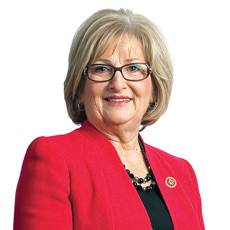 Rep. Diane Black (R-TN)
When Rep. Diane Black (R-TN) was around 4 years old, she asked for a doctor's kit. But growing up in a working class family in Glen Burnie, MD, the future nurse and Congressman didn't know how to pursue her healthcare dreams.
"I actually attribute my education to a counselor in high school who helped me get a scholarship to college," Black says. The daughter of an electrician and homemaker, and one of four children, she became the only one to pursue higher education. After high school, she took a bus to Anne Arundel Community College to obtain her associate's degree and became a nurse in 1971.
In 1986, she and her second husband, David Black, moved to Tennessee when he was recruited by Vanderbilt University to help establish a drug-testing program. The couple began a business that would become Aegis Corporation. Black also worked to complete her bachelor's degree in nursing.
"I recognized I loved working in the ER and doing patient care, but that the [BSN] would allow me to do more administrative work and take a leadership role," Black says. "Being a nurse is why people encouraged me to run for the state house in 1998."
As a state representative, one of her issues became the state's Medicaid program, TennCare. Anne Carr, the co-founder of government relations firm Smith Harris & Carr, notes that Black's "nursing background qualified her in a unique way." Black said she began to learn that the state "was very far behind in long-term care."
"People didn't belong in nursing homes, but there was no other place for them to go," Black says. "I was very involved in creating a long-term care plan in our state."
Today she's known for visiting long-term care facilities when back in her home state.
Mary Anna Womeldorf, a retired long-term care executive, first became friends with the Blacks through the Hendersonville Rotary Club. She says Black has long felt strongly about issues related to children, healthcare and seniors. Womeldorf's husband, S.T., joined the Blacks on medical trips to Guatemala for 13 years.
"She has a small length of time to make a difference and her real quest is to make a difference," Womeldorf says. "Conservatism is part of her life journey."
Black's election to Congress and appointment to the House Budget Committee is a notable accomplishment, notes Gerald Coggin, executive vice president of NHC Corporation, which has more than 35 long-term care facilities in Tennessee.
"She's always been an advocate for fair reimbursement. She's a straight shooter," he says. Black, who was listed earlier this year by the National Journal as one of the 15 most conservative Congressmen, reflects "the will of her constituents," Coggin says.
But Black,63, says she also finds a balance, traveling home on weekends to Gallatin, TN. The mother of three grown children — Steve, 42, Jill, 38, and Katie, 35 — she says her six grandchildren "are the loves of my life." Her hobbies include bird-watching and reading, particularly the works of mystery writer Aaron Elkins.
Womeldorf says she admires her friend's commitment. Both of the Blacks, she says, have been "frugal, generous, worked hard and practiced humility in their neighborhood and community."
Resume
1966
Starts her first job, at age 15, at a dry cleaner in Ferndale, MD
1971
Finishes associate's degree in nursing at Anne Arundel Community College
1988
Teaches medical terminology at Volunteer State Community College in Gallatin, TN
1991
Completes bachelor's degree in nursing at Belmont University in Nashville, TN
1998
Elected to the Tennessee State House of Representatives
2004
Elected to the Tennessee State Senate
2005
Named Tennessee Nurses Association "Outstanding Legislator of the Year"
2008
Tennessee Association of Homes and Services for the Aging gives her Executive Leadership Award
2010
Elected to the U.S. House of Representatives, representing Tennessee's 6th Congressional district. Re-elected in 2012.