September 19, 2008
President to sign bill expanding Americans with Disabilities Act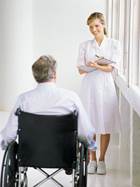 Editors' Blog: CMS takes on post-acute care

The House of Representatives this week passed legislation to expand the definition of "disability" under the Americans with Disabilities Act, helping millions more disabled Americans receive government assistance.

The current legislation was in response to Supreme Court decisions in 1999 and 2002. The court ruled that individuals who could compensate for their disabilities with medications, medical devices or prosthetics did not qualify for protection under ADA. The bill states that the Supreme Court made a mistake by "eliminating protection for many individuals whom Congress intended to protect." The original ADA passed in 1990. The definition of disability must now be interpreted to include broader coverage for the disabled, according to the new bill.

The legislation is strongly endorsed by a number of consumer advocate groups, including the American Civil Liberties Union. The bill, which was originally introduced to the Senate on July 31 of this year, now makes its way to President Bush's desk for ultimate approval. A Bush spokesman has said he will sign the bill.