August 11, 2010
President signs bill providing more Medicaid funding to states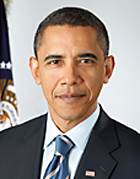 President Barack Obama
President Obama Tuesday signed a bill sending $26.1 billion in aid, including $16.1 billion in Medicaid relief, to states.
Earlier, the House passed the bill by a vote of 247-161. Long-term care leaders were quick to praise the passage of the legislation, which will extend the increase in the federal medical assistance percentage (FMAP) through June of 2011. Larry Minnix, president and CEO of the American Association of Homes and Services for the Aging, called the vote "a statement of support for quality in nursing homes and support for the people who deliver care in them every day."
Bruce Yarwood, president and CEO of the American Health Care Association and the National Center for Assisted Living, and Alan Rosenbloom, president of the Alliance for Quality Nursing Home Care, issued a joint statement.
"The rare return of the House today speaks to the importance of protecting our nation's seniors in nursing and assisted living facilities," they wrote. "More than anyone else, Speaker Pelosi understood the severity of the financial situation facing the states today and did the right thing for America's frail and elderly."
Congress approved the measure largely along party lines. Only two Republicans voted for the bill. Six Democrats voted against the bill.