March 09, 2010
Pennsylvania seeks federal Medicaid assistance to stave off disaster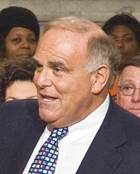 Edward Rendell (D-PA) is chair of the National Governors Association.

The dire financial situation many states find themselves in is embodied by efforts the state of Pennsylvania has made to secure additional Medicaid assistance funding, recent news items suggest.

Officials at Pennsylvania's Department of Public Welfare are seeking roughly $1 billion in additional Medicaid assistance from Washington. They hope to secure it through an extension of the temporary increase in the federal medical assistance percentage (FMAP) and a Medicaid drug rebate program, the Republican Herald reported. That state expects to see its medical assistance caseload increase by 3% in the next year, and without the federal assistance, state Medicaid spending will drain an extra $1 billion from a state taxpayer-funded General Fund, the newspaper noted.

Nearly every other state is facing a similar financial crisis, as the economic collapse of 2009 added millions of recently unemployed to the Medicaid rolls. A proposed six-month FMAP extension is currently being debated in the Senate. The embattled healthcare reform package contains an extension of the Medicaid drug rebate program for seniors dually eligible for Medicare and Medicaid, observers point out.