June 01, 2013
Partnership's mission is to help seniors get plugged in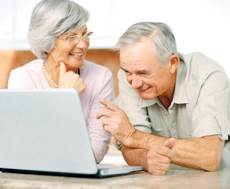 Using a cloud-based platform is becoming a more common option for seniors.
Social media, email and other forms of communication technology offer senior citizens a virtual world of information, entertainment and correspondence with friends and family. Yet these can be strange, unfamiliar formats for many older people.
That is the motivation behind a new partnership between ConnectedLiving and CDW Healthcare, which have teamed to enable seniors to take advantage of online devices and applications. The arrangement has ConnectedLiving providing a cloud-based platform tailored for seniors while CDW furnishes the expertise in creating systems that cater to the long-term care and senior living environments.
"Our mission is to provide the tools and resources to propel seniors along the path to independence," said Sarah Hoit, CEO and co-founder of ConnectedLiving. "We want to make virtual socialization an inherent part of seniors' lives."
ConnectedLiving's cloud-based social platform includes an interface tailored to seniors, which provides secure internet access, email, photos, games and social media tools including video chat. The company facilitates programming and training, and provides on-site services to equip computer cafés with interactive displays that feature community and activity calendars, menus, local news and weather.
"The technology, coupled with classes, activities and support, encourages adoption and sustainable usage, enhancing overall experience and wellness," Hoit said.
CDW Healthcare will provide telecommunications services, updates to legacy systems and the infrastructure for speedy connections. The solution also includes hosted telephone options, such as hotel-style phone dialing, as well as bedside solutions and "info-tainment" programs.
The companies will offer various basic technology packages with discounts for seniors and their families, including desktops with large print keys, monitors, printers, mobile devices and support services.