April 20, 2011
Parkinson: Nursing homes must be a part of ACOs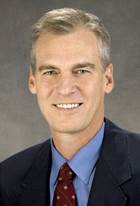 Gov. Mark Parkinson
Nursing homes are "perfect partners" for accountable care organizations and don't want to be left behind in the changing healthcare landscape, the leader of the nation's biggest nursing home association said Tuesday.
In what was a recurring theme in a conversation with reporters, AHCA/NCAL President and CEO Mark Parkinson made it clear that "we want to be a part of ACOs." The system, as it exists now, does not have enough incentives to keep people from long hospital stays or return visits to healthcare facilities, he said.
"One of the understated benefits of ACOs is the potential savings in the changing of the reimbursement systems. We want to take the incentives out of treating people longer," he explained during a briefing marking his three-month anniversary on the job.
The Centers for Medicare & Medicaid Services released its long-awaited ACO guidelines on March 31, which are designed around healthcare providers banding together to provide care to 5,000 or more beneficiaries. The program, which begins in 2012, allows an ACO to partake in shared savings resulting from high-quality efficient treatment. CMS is accepting comments on the guidelines until May 31.
Whether ACOs gain traction or not, there is "a logic to episodic bundled payments. It makes sense from the cost side," Parkinson said.
But Medicaid block grants to states, which have been proposed under House Budget Committee Chairman Paul Ryan's plan, are far less ideal as a cost-cutting measure, he said.
"Block grants could potentially be very, very bad for nursing homes," Parkinson said. "A block granting program that is unrestricted doesn't solve the healthcare cost problem; it just passes it off. It doesn't provide a solution; it just means someone else doesn't get care."
ACHA/NCAL is working internally on block grant proposals that could work, he said, but it "is very, very hard."
Parkinson also touched on a general lack of technology in most nursing homes, the need for site-neutral payments for Medicare, ACHA/NCAL's commitment to quality care, and the association's support of the CLASS Act.