April 01, 2013
Oxygen chambers don't help wounds in LTC setting: study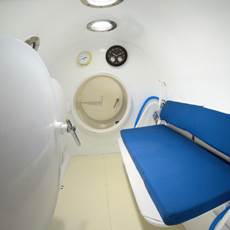 Oxygen chambers don't help wounds in LTC setting: study
Long-term care providers might want to think twice about including oxygen exposure in the treatment regimen for residents with diabetic foot ulcers. Oxygen treatment does not improve wound healing and may actually be harmful, according to new findings by researchers at the University of Pennsylvania Perelman School of Medicine.
Investigators looked at nearly 6,300 diabetes patients treated for foot ulcers between 2005-2011. Of this group, 793 underwent hyperbaric oxygen treatment. The team's findings contradict a commonly held belief that exposure to oxygen promotes wound healing. After 16 weeks of treatment, 43% of oxygen-treated patients had fully healed foot wounds, while roughly half of patients who did not receive the treatment were healed. Furthermore, about 7% of the oxygen-treated patients had an amputation. This was more than triple the number of amputees (2%) in the other group.
Full findings, which appear in the journal Diabetes Care, came as a surprise to investigators. That's largely because these new findings appear to contradict a substantial body of prior research.
"We thought we would see a replication of what occurred in the randomized trials. The data demonstrates that didn't come to pass," said Stephen Thom, M.D., PhD., of the Perelman School of Medicine in Philadelphia.
For the past two decades, many people suffering from open wounds were placed into pressurized chambers or rooms that exposed them to pure oxygen. Many providers have felt this approach helps promote tissue growth and quicken healing times.