December 01, 2012
One sweet 'Onion'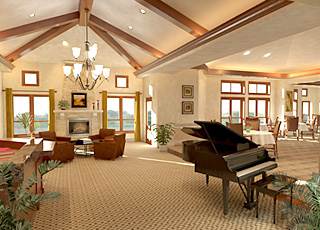 One sweet 'Onion'
When completed in early 2013, Silverado Senior Living's Onion Creek property should be the envy of memory care facilities everywhere, says Senior Vice President Steve Winner. Currently under construction on a five-acre site near Austin, TX, the company that specializes in memory care expects Onion Creek to be the culmination of its efforts to date.
"Onion Creek is the model we designed going back 15 years — comprising all the parts that are important to us," said Winner, who co-founded Silverado and also serves as its chief of culture. "There are no limitations — everything we ever dreamed about doing is going into it."
Designed with a Texas Hill Country-meets-Tuscany ambiance, the one-story, 45,000-square foot Onion Creek property will offer targeted memory care for up to 90 residents. Onion Creek brings the company up to eight Texas sites, including facilities in Dallas and Houston. Silverado's staffing model includes a full-time registered nurse who will direct clinical care, along with licensed nurses who provide 24-hours seven-day-a week licensed nursing coverage.
Philosophically, the design focus is on freedom and dignity for residents, Winner said, adding that the primary challenge is balancing a liberal amount of freedom with the right measure of security to keep residents from wandering. With Onion Creek, Winner believes the company has designed a layout that provides the maximum amount of freedom with an unobtrusive measure of security.
"The proper environment facilitates movement and improves the abilities of people with memory impairment," he said. "Too much security makes them feel self-conscious, so we want to open up as much room for them as possible, with wandering paths and gardens, gazebos and putting greens."
In fact, only the front door is locked, Winner said. "Every other door is wide open."
The interior and exterior spaces are not just airy and open, they are also designed to heighten the senses. For instance, different pathway surfaces, such as clay, sand, concrete and grass, stimulate balance. Illumination is also carefully incorporated into the design scheme. Because people with dementia have a hard time going from the dark directly into bright light, the facility will have transition areas where the light change is gradual.
The concept of promoting dignity for residents extends to interaction with others, such as children and pets. Onion Creek will have several areas where residents can watch children play. And unlike other facilities, residents will be allowed to have pets, which Winner thinks is important.
"Many residents are pet lovers and it is not only healthy for them to have animals for companions, they feel useful when they can help take care of a pet," he explained.
Onion Creek also will be equipped with state-of-the-art technology to facilitate operations, improve clinical functions and engage residents, Winner said.
_____
Lessons Learned:
1 - Striving for innovation is what drives an organization's growth. The opportunity for innovation lies in listening.
2 - Hire the best people. Spend a lot of time evaluating staff and make sure employees have the right attitude .
3 - Ensure that growth does not dilute the company's core values and community culture.