March 01, 2012
Omnicare unveils prescribing app for controlled substances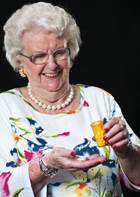 Omnicare unveils prescribing app for controlled substances

Omnicare recently announced the launch of a new application for controlled substances. Prescribers — including physicians, nurse practitioners and physician assistants — can electronically transmit orders for controlled substance prescriptions as well as other medications in real-time directly to Omnicare pharmacies.

The new technology speeds up the time it takes for patients to receive medication.

"We are excited about this new OmniviewDr capability, which is consistent with our goal to develop and implement innovative technologies that improve the quality of care and create efficiencies for our customers, the physician community and for Omnicare," said Jeff Stamps, executive vice-president and president, long-term care operations.

Omnicare developed the application to address the growing needs of physicians and residents in eldercare settings. Such residents are often in pain and require immediate access to medications.

OmniviewDr will use cloud technology that utilizes a two-factor authentication process to address safety and security regulations required for controlled substance prescriptions. Physicians also can access this functionality through their mobile devices.

The OmniviewDr platform allows prescribers to:

• Review and respond to patient-specific comments posted by the Omnicare consultant pharmacist;
• View patients' health records as prepared by Omnicare and perform e-prescribing;
• Approve refills requests;
• Request an estimated price quote for a specific drug; and
• View a document library.
OmniviewDr is the physician-facing part of Omnicare's Omniview technology portal. Capabilities include pre-admission medication assessment, e-refill, proof-of-delivery, access to drug management reports and real-time validation of Part D coverage.