February 04, 2014
OIG plans to scrutinize skilled nursing facilities' Medicare Part A claims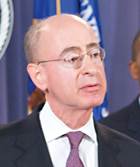 HHS Inspector General Donald Levinson
Skilled nursing operators can expect to see a new government report on Medicare Part A billing practices released in 2014, according to the latest annual work plan from the Department of Health and Human Services Office of the Inspector General.
The work plan identifies five OIG reviews related to nursing homes. The review of SNFs' Part A billing is labeled as a "new" project, meaning it did not appear in the previous work plan.
The Part A review will analyze variations in SNF billing patterns for selected years, the work plan states. The federal investigators are focusing on Part A billing in light of previous reports, the plan notes. Some of these reports found potentially inappropriate increases in the highest codes for therapy. The work plan also notes that one-quarter of SNF Part A claims in 2009 were erroneous, resulting in $1.5 billion in inappropriate payments.
The inspector general's office also expects to release reports this year on questionable Part B billing, the verification process for deficiency correction plans, and the frequency of potentially preventable hospitalizations of SNF residents, according to the plan. All these projects are described as currently in progress, and were included in the previous work plan.
Long-term care providers and others in the field have said they anticipate generally heightened scrutiny from regulators in 2014.
Click here to access the complete OIG work plan, released Friday.