September 30, 2008
OIG: Nearly all nursing homes violated federal standards in 2007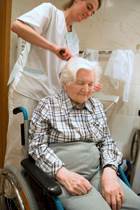 OIG: Nearly all nursing homes violated federal standards in 2007

More than nine out of 10 nursing homes in the United States last year were cited for violating federal health and safety standards, according to a report released Monday by the Department of Health and Human Services' Office of Inspector General.

Approximately 94% of for-profit nursing homes received citations related to problems such as infected bedsores, medication mix-ups, poor nutrition and abuse and neglect of patients, the report found, according to The New York Times. A total of 88% of nonprofit nursing homes and 91% of government-run nursing homes received citations. For-profit facilities received an average of 7.6 deficiencies per home, compared with 6.3 for government facilities and 5.5 for nonprofits. The OIG received more than 37,000 complaints about nursing home conditions and 39% could be verified. About 17% of all nursing homes had deficiencies that caused harm or danger to residents.

Deficiency rates varied state to state: Some 76% of Rhode Island nursing homes received a deficiency citation, while 100% of nursing homes in states such as Idaho and Alaska were cited, according to the report.

For more on the report, go to http://www.oig.hhs.gov/oei/reports/oei-02-08-00140.pdf.

For more on The New York Times story about the report visit http://www.nytimes.com/2008/09/30/us/30nursing.html?_r=1&hp=&adxnnl=1&adxnnlx=1222709460-4pWwNmIpxc/eAdL0tgH3ag&pagewanted=print&oref=slogin.