May 01, 2013
Obama's cuts draw hot provider rebuke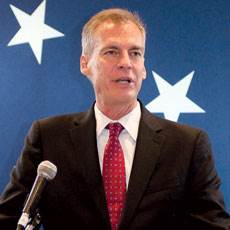 AHCA President and CEO Mark Parkinson
President Obama's proposed budget is dead in the water as long-term care providers see it. They stand to lose $81 billion over 10 years if the measure is approved.
It is part of a bigger plan to cut healthcare by $400 billion.
The cuts would come on top of a 2% sequestration reduction of Medicare funding that kicked in April 1.
"These proposed reductions will not solve the underlying, structural problems with our nation's budget," said AHCA President and CEO Mark Parkinson. "Reform is necessary."
The budget calls for lower payment updates and fewer funds for commonly treated conditions. The White House plan also includes "incentivizing" skilled nursing facilities to reduce hospital readmissions.
LeadingAge officials praised the Obama budget for taking it easy on Medicaid funding.