May 01, 2014
Nursing rates and prices hit historic highs, reports show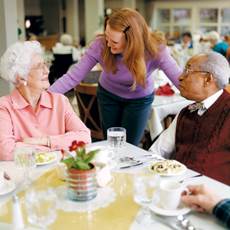 The median price for a semi-private room now tops $70,000.
The rates nursing home charge and the prices they fetch on the market have hit new highs, reports reveal.
The median annual cost of a private nursing home room in the United States now tops $87,000, a 4.4% increase, according to the latest annual survey from insurance company Genworth.
"While the cost of care among all care providers has steadily increased, the cost of facility-based providers has grown at a much greater rate than that for home care," the report noted. In fact, the average annual increase for skilled care has been 4.3% over the past five years.
The median price for a semi-private nursing home room increased by 2.62% last year, reaching $77,380, according to the report.
Alaska again was the most expensive state for nursing care. The median annual cost of a private room was $240,900.
A private room in Oklahoma, the state with the least costly skilled care, went up to $57,488.
This is the 11th year Genworth has compiled a cost of care survey. The company says it is based on information from more than 43,300 providers nationwide.
At the same time, the average price buyers paid for skilled nursing facilities rose to a record $73,300 per bed last year, according to the The 2014 Senior Care Acquisition Report. The previous record, set in 2010, was $62,500 per bed, and the 2013 average price per bed represents a 21% increase over the prior year's average price, the report noted.
"While we were surprised by the significant jump in the average skilled nursing facility price per bed, we had been seeing all year a higher number of skilled nursing facilities on the market that catered to a much higher acuity mix, or were in markets that had the potential for higher acuity, and that is what the buyers want," stated Irving Levin partner Stephen M. Monroe, editor of the report.