March 04, 2011
Nursing homes to be judged by 21 new quality measures on federal website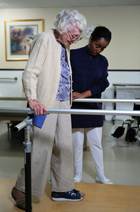 Nursing home company reaches $2.7 million settlement in therapy billing case
The National Quality Forum on Wednesday came out in support of 21 measures to be used to care for both long-term nursing home residents and short-stay patients. These measures will be included in the Centers for Medicare & Medicaid Services' Nursing Home Compare website.
The new measures will include assessments of patient outcomes and personal experiences in both long-term and short-stay care settings. The measures will track the percentage of residents who self-report moderate to severe pain, have a high risk for pressure ulcers, have appropriately received influenza and pneumonia vaccines, and require assistance with activities of daily living, among others.
These measures are designed to help consumers "better understand and compare quality of care when selecting nursing homes," according to Dr. David Gifford, who co-chaired NQF's Steering Committee on Nursing Homes while serving as Director of the Rhode Island State Department of Health. This week, the American Health Care Association and National Center for Assisted Living announced that Gifford had been named to the newly created position of senior vice president of quality and regulatory affairs.
The 17 measures that were previously endorsed will be retired and, in some instances, be replaced by the newly endorsed measures. These measures were recently retired in the transition to the new MDS 3.0 resident assessment tool.
Any party can request a reconsideration of the 21 recommendations by submitting a written request to NQF no later than April 1. Appeals forms are available on the NQF Nursing Home project page. For more information, including a list of all 21 measures, click here.