August 29, 2008
Nursing homes prepare for worst with Hurricane Gustav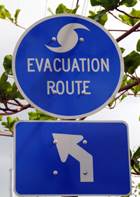 Nursing homes prepare for worst with Hurricane Gustav

Their memories of Hurricanes Katrina and the Rita still vivid, nursing home administrators in the Gulf Coast area are bracing for what could be the first major storm there in three years-Hurricane Gustav.

It's still too early to tell how powerful Gustav will become as it makes its way across Haiti and Cuba towards the vulnerable Southern states. Nursing homes and state officials aren't taking any chances. With landfall expected sometime over the holiday weekend, many across the South began preparations earlier this week.

"We're just in a sort of 'wait and see' situation right now," Anne Shirley, Communications Director with the Louisiana Nursing Home Association, told McKnight's.

Louisiana is taking extra care to avoid a repeat of the evacuation disaster that ensued 2005. Gov. Bobby Jindal (R-LA) has ordered 300 extra ambulances to be on hand to evacuate nursing home residents and hospital patients. The state's nursing home association is also urging residents and families of residents to communicate with facilities and coordinate evacuation plans.