May 20, 2009
Nursing homes caution against federal budget cuts in wake of governors' bleak budget predictions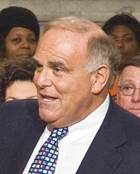 Edward Rendell (D-PA) is chair of the National Governors Association.

Despite indications that the national economy is starting to rebound, the National Governors Association is warning that states' economies are still suffering, and that another bout of budget cuts could be on the horizon.

As many as 42 states are predicting revenue declines of 12% in January and February of 2010, with some states estimating decreases of up to 40%, according to the recently released May 2009 NGA State Budget Update. As a result of those dire predictions, states across the country are considering additional budget cuts before fiscal year 2009 ends in June, which traditionally includes cuts to Medicare and Medicaid services.

This news comes as lawmakers in Washington continue work on the federal FY 2010 budget. Some nursing home advocates are trying to alert legislators to the potential dangers of cutting federal Medicare and Medicaid funding at a time when states are also considering additional cuts. A statement from the American Health Care Association suggests that "any federal cut to seniors' Medicare Part A nursing home benefit in the months ahead will intensify the negative impact of state Medicaid cuts already jeopardizing older Americans' ongoing access to quality long term care and services."

The Alliance for Quality Nursing Home Care fears the loss of thousands of healthcare jobs as a result of any state and federal budget cuts. The NGA budget report is available for review at www.nga.org.