November 11, 2013
Nursing homes are the most dangerous workplaces in America, government data shows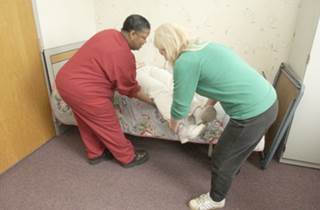 Aides frequently injure themselves on the job, putting them at risk of leaving the LTC field.
Nursing homes had the highest rate of workplace injury and illness in 2012, according to the latest figures from the U.S. Bureau of Labor Statistics.
Last year's illness and injury incidence rate for private sector nursing and residential care facilities was 7.3%, the BLS reported Thursday. This was the highest overall, and it far eclipsed the illness and injury rates for workplaces that might seem more dangerous. The rate for miners (except oil and gas) was 2.7%, and the rate for construction was 3.6%.
State-run nursing homes are even riskier places to work, with a 13% incidence rate. Of all the illness and injury rates published by the BLS last week, this was the only one to reach double digits.
The numbers reflect a well-known state of affairs. In July, nursing homes were ranked the No. 5 most dangerous workplaces in the United States, based on an analysis of 2011 BLS data.
Many nursing facility injuries occur when workers move residents. The Occupational Safety and Health Administration has launched a campaign to reduce the number of musculoskeletal injuries sustained by long-term care workers, and the American Nurses Association is seeking to eliminate manual handling of residents. A bill in the House of Representatives,introduced by Rep. John Conyers (D-MI), would institute protections for nursing home staff.