May 08, 2016
Nursing homes accused of 'dumping' less lucrative residents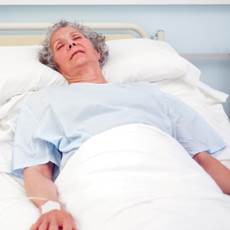 Nursing home residents requiring higher levels of care are often "evicted" from nursing homes, advocates say
Complaints of nursing homes discharging residents who require higher levels of care in favor of less labor-intensive, more lucrative patients are on the rise, according to a new report published Friday by the Associated Press.
The number of eviction and discharge complaints filed with long-term care ombudsman programs has grown 57% since 2000, the AP reports. Ombudsmen received 11,331 complaints of the so-called "patient dumping" in 2014 alone, with similar complaints ranking as the most common grievances reported since 2010.
David Gifford, M.D., MPH, senior vice president of the American Health Care Association, defended nursing homes' discharge process, saying it's legal and necessary to protect residents' safety and the safety of other residents and workers.
"There are times these individuals can't be managed or they require so much staff attention to manage them that the other residents are endangered," Gifford told the AP.
The number of residents who become difficult to manage or need a more complex level of care have been growing, Gifford added, calling for a national policy discussion on the issue.
The residents most frequently targeted for eviction or discharge have dementia or exhibited dementia-related aggression, are poor, require more intensive care or have family members who complain about treatment, advocates told the AP.
"When they get tired of caring for the resident, they kick the resident out," said Richard Mollot, executive director of the Long Term Care Community Coalition, a New York-based advocacy group.
"Patient dumping" made headlines last November, when a California citizens group filed a lawsuit against the state for its failure to address the issue. The lawsuit drew ire from the state's provider groups, who said the California Advocates for Nursing Home Reform's suit "didn't hold water."