November 21, 2012
Nursing home quality improves; increasing staff retention remains goal, AHCA report says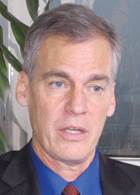 Mark Parkinson, President, AHCA
Quality levels and customer satisfaction levels continue to improve in skilled nursing facilities, although increasing retention levels in certain positions remains a challenge, according to a new quality report from the American Health Care Association.
While turnover decreased by 9% overall for all nursing roles from 2008 to 2010, it increased slightly in therapy and social service roles, according to the AHCA 2012 Quality Report. The turnover rate for directors of nursing also has increased, from 18% in 2008 to 26% in 2010, while the certified nursing assistant rate decreased, from 53.5% to 43%. Turnover also has decreased in food services and housekeeping since 2008, according to the report, which was released Tuesday.
As part of its Quality Initiative plan, AHCA has set a goal of a 15% reduction in nursing staff turnover by March 2015. That would translate to more than 615,000 nursing staff members who would remain in their jobs each year instead of moving, report authors observed. The plan also includes increasing customer satisfaction, reducing hospital readmissions and cutting off-label use of antipsychotics.
"What excites me most is what is ahead," Parkinson said, noting how the specific goals and time frames of the plan are what set it apart. The plan "really builds upon the progress that the sector has made."
The report showed skilled nursing centers have improved in 12 of the 15 Quality Measures. Additionally, long-stay residents have a satisfaction level of close to 90%, while short-stay customer ratings have increased 9 percentage points, up to 87% for the 2008 to 2011 period.
While the total number of facilities has been close to stable since 2010 (coming in at 15,690 in 2012), the number of not-for-profit facilities continues to drop while for-profit facilities continue to rise.
Looking ahead, AHCA says that facilities can expect more managed care arrangements. While 11 states had Medicaid managed care statewide or regionally in 2011, that number is projected to increase to 26 states by 2014
The biggest concern, Parkinson said, is that a Congressional budget deal might "undo this progress." It could, he noted, include Medicare cuts, or further reductions in funding related to changes in the provider tax assessment or bad debt.