October 29, 2013
Nursing home leader releases five-year plan, tells members they 'cannot forget the vulnerable'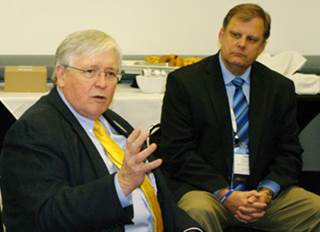 LeadingAge leaders Larry Minnix (left) and David Gehm in 2012
The leaders of the largest U.S. long-term care convention and exposition sought to inspire members at the group's annual meeting Monday in Dallas as if they were at a "family reunion." But in doing so, they also issued undisguised warnings that the little brothers and sisters of the world still need plenty of care.
"It's a reminder, a refocusing," explained Larry Minnix, the president and CEO of LeadingAge, at a press briefing. "We're saying it's no longer sufficient to say that you're taking some (individuals) but not taking others. You cannot forget the vulnerable."
His words echoed similar sentiments delivered Monday morning by David Gehm at a massive general session. The president and CEO of Wellspring Lutheran Services in Michigan, Gehm was installed as the LeadingAge board chairman at the session by six Wellspring direct caregivers.
"We're saying to our people: Go home and diagnose yourself," Minnix explained.
• Minnix praised numerous association and provider initiatives during a wide-ranging discussion at the press briefing, including the imminent release of a financing task force report. "Many old things don't work," he noted.
• He also announced the release of a new LeadingAge strategic plan for the next five years. It covers expanding finance options, adopting more technological solutions, developing strong leaders and strengthening non-profit organizations, as well as promoting innovation in caregiving and engaging consumers more. It includes five pieces of federal legislation the group will press to have passed.
• In addition, Minnix revealed that in several weeks, LeadingAge leaders will attempt to meet with top officers of the Assisted Living Federation of American, the National Center for Assisted Living, and others to help smooth out differences and help providers "rally around some standards."
"We need self-responsibility, not the government, to police ourselves so we don't have OBRA '15 for assisted living," he said, referring in part to a past massive nursing home reform bill.
• In addition to Gehm being installed as board chair, it was revealed that Ecumen President and CEO Kathryn Roberts was named chair-elect after a vote taken Friday. Roberts is set to succeed Gehm when his term expires in two years.
Monday's attendance at the Dallas Convention Center was 7,000, which included approximately 1,900 individuals representing exhibitors or presenters, according to LeadingAge officials. The annual meeting and expo concludes Wednesday.