February 08, 2012
Nursing home groups respond to Obama's proposed Medicare and Medicaid cuts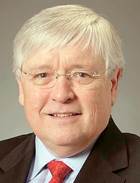 LeadingAge President and CEO Larry Minnix
Provider groups are urging President Obama to consider nursing home funding when he releases his fiscal 2013 budget next week.
The budget proposal is expected to include Medicare cuts worth $248 billion and Medicaid cuts of up to $72 billion.
Long-term care advocates say that nursing homes are already grappling with onerous cuts. In a statement to McKnight's, Larry Minnix, president and CEO of the nonprofit provider group LeadingAge, said nursing homes are already "dealing with the 11% cut, severe Medicaid cuts in most states over the past two years, and the reduction in the Medicare market basket update mandated for the next several years under Affordable Care Act."
The American Health Care Association and National Center for Assisted Living, which combined represent the nation's largest long-term care provider association, are pitching a budget plan of their own. The groups recommend no changes in the Medicaid provider tax authority and $4.88 billion in additional Medicaid funding for states, based on previous annual shortfalls.
"There are clear linkages between the budget, the size of our workforce, quality within our facilities, and care at the bedside," said AHCA President and CEO Mark Parkinson.