September 11, 2012
Nursing home group heightens lobbying for Medicaid funding before November elections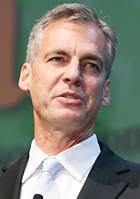 Mark Parkinson
Preserving Medicaid funding remains the top priority for the largest nursing home association in the United States as Congress heads back into session this week.
Leaders of the American Health Care Association and National Center for Assisted Living say they will spend the remainder of this Congressional session emphasizing potential funding threats. Other legislative priorities for the associations include preserving provider assessments (tax revenue); protecting against sequestration cuts; extending the therapy cap exceptions process and changing Medicare restrictions following hospital "observation" stays.
AHCA President and CEO Mark Parkinson said any reductions of Medicaid funding could hurt nursing home operators.
"Cuts to Medicaid do not mean a healthy Medicaid; not if that's the only remedy Congress is considering," Parkinson said in a statement. "We need to take a larger view to fixing what ails this program, a hard look at reforming the system."