February 13, 2012
Nursing home group doesn't support mandatory flu vaccines for workers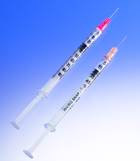 Nursing home group doesn't support mandatory flu vaccines for workers
The largest nursing home association in the country agrees that influenza vaccine should be offered to all healthcare workers but it stops short of endorsing a recommendation by a federal advisory panel that the vaccinations be mandatory.
Healthcare facilities that fail to reach a 90% annual flu vaccination rate for employees should "strongly consider" mandating that workers get influenza vaccines, The National Vaccine Advisory Committee said Thursday. The panel advises the Department of Health and Human Services, which will now consider the recommendation.
"We agree that employees in long-term and post-acute care facilities should be offered the influenza vaccination," Greg Crist, vice president of public affairs at the American Health Care Association and National Center for Assisted Living, told McKnight's on Friday.
"[But] it's difficult to support mandatory vaccinations at the present. One reason is costs and what type of financial burdens might exist. On a personal level, some staff may have objections for religious or cultural beliefs. Finally, we're concerned about the impact on an already difficult workforce situation."
If accepting the flu vaccine were required as a condition of employment, Crist added, "It may deter those from entering our profession at a time when we need them the most."
Other providers, such as the American Hospital Association, are on board with an employee vaccination push. Last year, the AHA Board of Trustees approved a policy calling for, among other things, employees to be vaccinated against the flu or otherwise wear a facemask while around patients during the flu season.
The advisory vaccine panel also recommended that HHS standardize the way it measures healthcare worker vaccination rates. Facilities also should establish comprehensive flu prevention programs and integrate them with infection prevention efforts, the panel urged.