May 02, 2011
Nurses stay too quiet about caregiver errors, report says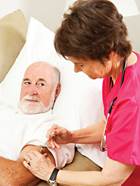 Nurses stay too quiet about caregiver errors, report says

Too many nurses keep quiet when they observe a colleague making a mistake that could harm a patient, findings of a study of 6,500 nurses and nurse managers reveal.

The study, conducted through a partnership between the consulting company Vital Smarts and the American Association of Critical-Care Nurses, reports that 58% of the study participants said they didn't tell anyone when a colleague violated a safety measure. Safety measures include checklists, patient handoff protocols and automated drug-dispensing systems, among others.

The most frequently noted kind of errors cited were the result of a colleague taking a "shortcut." Fifty percent of the participants said they observed a colleague making care-related shortcuts that could have had dangerous consequences. However, only 17% shared their observation with other coworkers. About one-third of the participating nurses saw a colleague exhibit what they considered to be incompetence, but only 11% of the nurses confronted that individual.

More than half of the nurses reported disrespect as the reason they couldn't get other people to take their complaints seriously.

David Maxfield, expert and consultant from the research firm Vital Smarts, suggests that the "culture of silence" in some healthcare settings — even those that use safety measures — contributes to nurses staying quiet.