August 08, 2008
News report: Illegal nursing-home evictions on the rise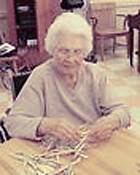 News report: Illegal nursing-home evictions on the rise

Increasingly, nursing homes are illegally turning out residents to help their bottom lines, according to an analysis in The Wall Street Journal.

While the Journal admits there is no agency tracking nursing home evictions in the U.S., it notes that complaints of improper evictions have doubled over the last decade to 8,500 in 2006. Those at greatest risk of being kicked out depend on Medicaid, according to the Journal, which reimburses nursing homes at roughly half the rate of Medicare. In lieu of these low-income residents, homes are opting for short-term residents whose visits are fully paid by Medicare for up to 100 days, the newspaper found. The nursing home industry, in responding to the allegations, said evictions are not common and when they occur, they happen for legitimate reasons, the newspaper reported.

Federal law requires a home give a resident at least 30 days notice before evicting him or her, and allows for only six possible reasons for eviction: they are healthy enough to return home; they require care not offered at the nursing home; they risk the health of other residents or staff; they endanger the safety of other residents or staff; they do not pay their bills; or the nursing home closes. The Journal asserts that, in many states, up to one in seven evictions does not meet those criteria.

To read the Wall Street Journal Story, visit http://online.wsj.com/article/SB121806702698918693.html.