April 01, 2009
New Jersey: Measure would mandate pressure mattresses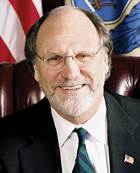 New Jersey Governor Jon Corzine (D)

Gov. Jon Corzine (D) was expected to sign legislation that would require nursing homes in the state to use pressure redistribution mattresses to reduce the incidence of bedsores.

As of press time, the Assembly had approved the bill (S. 1517) by a unanimous vote of 78-0, and the bill was headed to the governor.

"In 2007, the Centers for Medicare and Medicaid Services reported that New Jersey had a rate of incidence of pressure sores that was higher than the national average," said state Sen. Loretta Weinberg (D), who co-sponsored the bill.

The legislation would require that, starting one year after the bill's enactment, nursing homes would be required to purchase pressure redistribution mattresses when buying replacement mattresses. It also would mandate that all mattresses within a nursing home be switched to pressure redistribution mattresses within three years after the bill's enactment.