October 10, 2008
New infection control guidelines released; MRSA, c. Diff and urinary tract infections figure prominently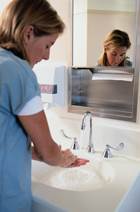 Handwashing remains high on the list of infection control measures.

Many of the nation's most prominent infection-control groups on Wednesday released a new set of "consensus" guidelines to help curb the spread of six potentially fatal facility-acquired infections.

The American Hospital Association and the Joint Commission, together with some of the country's top epidemiological societies, issued guidelines endorsed by the Centers for Disease Control and Prevention to address the following hospital acquired infections: Methicillin-resistant Staphylococcus aureus, the intestinal bacteria Clostridium difficile, ventilator-associated pneumonia, catheter-associated urinary tract infections, surgical site infections and central line-associated bloodstream infections.

"As of today, the nation's infection control team has a common playbook," said AHA President Richard Umbdenstock.

While the new guidelines are not drastically different from previous incarnations, they do contain primary and secondary treatment approaches and additional information about preventive measures providers can use to control the spread of infection. Some of the epidemiologists participating in the release of the guidelines have noted that current recommendations have not been updated in many years. The new guidelines are available on the Joint Commission's Web site: www.jointcommission.org.