March 01, 2017
New Hampshire ranks lowest in SNF citations, report finds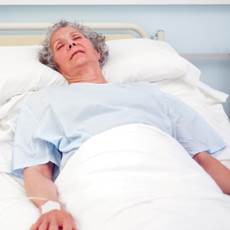 The report was calculated using CMS data on pressure ulcer citations.
New Hampshire ranked as the state with the fewest skilled nursing facilities to receive citations in 2014, according to data published Tuesday.
The skilled nursing citations list was released as part of U.S. News & World Report's "Best States" rankings, which scores states based on overall quality and factors including healthcare, education, economy and government. The healthcare quality metric was broken down into three categories: fewest hospital readmissions, fewest nursing home citations and Medicare quality, which measures the percentage of each state's Medicare Advantage beneficiaries enrolled in a plan with at least a four star rating.
The nursing home citations metric was calculated using data from the Centers for Medicare & Medicaid Services, the report explained. It ranked states by the percentage of their nursing homes that received a citation in 2014 for failing to prevent or treat a pressure ulcer.
Nearly 13% of the country's nursing facilities received a pressure ulcer citation, the report found. The Rocky Mountain region fared the worse, with one in five nursing homes receiving a citation.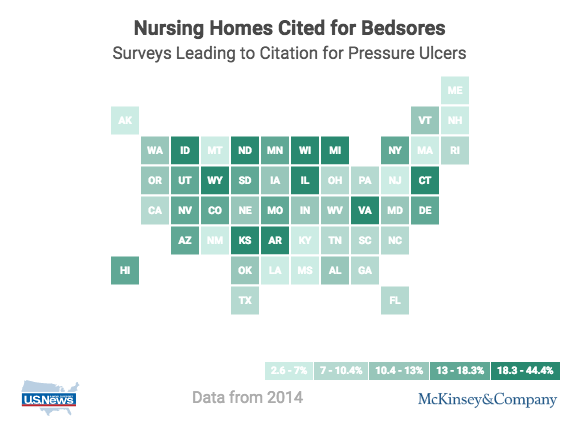 On a state level New Hampshire had the lowest percentage of cited facilities, at 2.6%. It was followed in the top spots by New Mexico, Kentucky, New Jersey and Maine. Idaho landed last on the list, at 44.4%, with Wisconsin, Connecticut, Kansas and Virginia rounding out the bottom five.
U.S. News & World Report acknowledged that while the healthcare quality category — which carries one-third of the weight in ranking states based on healthcare — was determined with only three metrics, "they offer a broad and multifaceted outlook on the state of healthcare in the nation."
Utah ranked first for the fewest hospital readmissions metric, while Maryland landed in last place. Rhode Island topped the list for Medicare plan quality; Montana ranked as the lowest state.
Click here to explore the full Best States report.