July 07, 2010
New Florida budget eliminates food safety inspections at nursing homes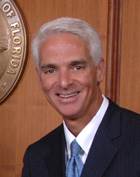 Gov. Charlie Crist
There no longer will be food safety inspections in nursing homes and hospitals in Florida as a result of budget cuts.
The new state budget, signed into law Thursday, ends the quarterly inspections, which had been overseen by the Florida Department of Health, The Palm Beach Post reported. It is unclear when inspections will start again, or which state agency will have the oversight authority to conduct them, according to the Post. Such a development may strike some as troubling, as nursing home residents and hospitalized patients have a heightened safety risk for foodborne illness, according to the Center for Science in the Public Interest.
Many other states are facing similar budget crises. Meanwhile, enhanced federal Medicaid assistance remains stalled in Congress. A total of 28 states had factored the extra money into their budgets for fiscal year 2011, which began Thursday.