April 05, 2017
New CMS chief stirs provider anticipation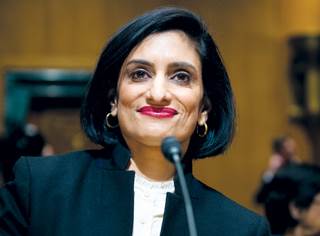 CMS Administrator Seema Verma began overseeing long-term care providers' two biggest funding streams after being confirmed by the Senate in March.
Long-term care provider groups were complimentary of Seema Verma following her mid-March confirmation as administrator of the Centers for Medicare & Medicaid Services.
The Senate voted 55-43 to confirm Verma, the president and CEO of consultancy firm SVC Inc. and a contributing force behind Indiana's Medicaid redesign under then-Gov. and current Vice President Mike Pence.
The American Health Care Association and National Center for Assisted Living released a statement praising Verma's experience in the healthcare industry and expressing optimism for their work together.
"Her experience and healthcare policy knowledge will serve the country well," said AHCA President and CEO Mark Parkinson.
LeadingAge Senior Vice President for Public Policy & Health Services Cheryl Phillips, M.D., said her group is anticipating working with Verma on both Medicare and Medicaid challenges "as we seek to find solutions for improving the care of older persons and those with disabilities."